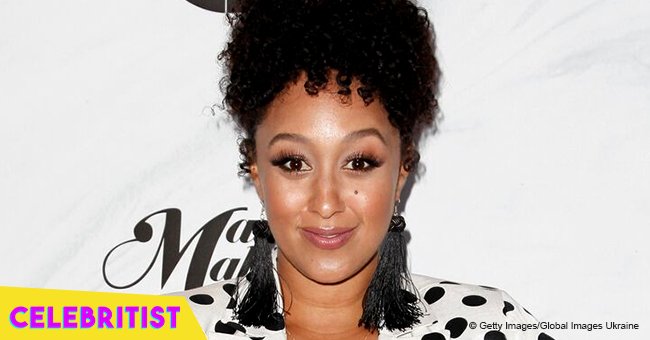 Tamera Mowry's children look nothing alike, making funny faces
The actress and reality television star is a proud mama who regularly shares photos of her children to her social media accounts.
Tamera Mowry and Adam Housley are one of the cutest couples in Hollywood, but they have faced backlash for their interracial union. Despite this, they continue to live their happy life with their two children, Aden, 5, and Ariah, 2.
The actress, who made a name for herself on Sister, Sister, has been very open about her family life since she got married, and her Instagram account is the perfect proof of that.
Like her sister Tia, Tamera is always sharing beautiful shots of her children, and she recently shared a funny shot of Aden and Ariah making faces to the camera and showing off their cute outfits.
Aden opted to wear some black slacks and a white t-shirt, white sneakers, and a cap, while Ariah looked cute in a pink dress and black shoes. Both the little ones were sticking their tongues out playfully for the camera.
"These two #siblinglove #happysunday," wrote the proud mother in the caption.
But the photo also highlighted something else about her children, and that is that they look very different from one another, each resembling one parent more than the other.
While Aden has blue eyes and blond hair like his father, Ariah definitely resembles Tamera with dark brown hair and eyes, something that the 39-years-old recently said she prayed for. Her daughter also has darker skin than her son.
Speaking with her co-hosts in the daytime talk show The Real, Tamera said: "This is The Real so I'm going to be honest. I really wanted Ariah to really look like me. Like, everything. Everything. I think she has my skin color and my eye color."
To which Adrienne Bailon replied "You prayed for that! I remember! She was like 'Lord, let her be brown. Let her have black hair."
However, Tamera mentioned that Ariah has a very distinctive physical feature from her dad, and that's his "big head."
Despite her prayers and the fact that the little girl does have the same skin, eye and hair color as Tamera, the actress believes the girl is looking more and more like her dad as she grows, and she doesn't seem to be amused by that.
Tamera loves her kids equally regardless, and she has proven what a great mom she is through the years.
Aside from sticking her tongue out, Ariah also enjoys pulling another face, something her mother fondly calls her "side-eye" where she looks increduloulsy at some at her side without turning her head to look at them.
Tamera has captured her daughter pulling her side-eye since she was just a toddler, and decided to share one particularly sassy photo to her social media for her fans to enjoy.
According to her mother, the only person who hasn't yet been a victim of Ariah's side-eye is her uncle Tahj Mowry, and so Tamera has nicknamed him the "Ariah Whisperer."
Please fill in your e-mail so we can share with you our top stories!