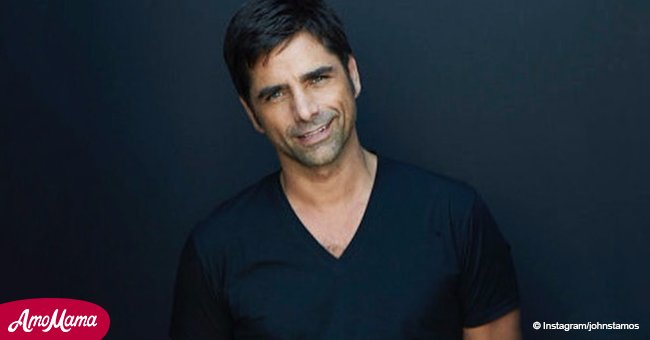 'Fuller House' star shows off dancing skills of newborn son
The actor and musician decided to show his patriotism this Fourth of July on Instagram with a picture of his two favorite things: his Gibson guitar and his 3-month-old baby, Billy.
Before heading to Washington, D.C. to host the PBS annual event celebrating U.S. independence, A Capitol Fourth, the 54-year-old took to the social network to share an adorable and funny photo and video of his newborn.
The star showcased his child's 'dance moves' with a hilarious boomerang video and a photo that featured the little boy in footie pajamas lying inside a guitar case alongside Stamos' red, white and blue guitar. Read more on our Twitter account @amomama_usa
'Looks like we got a stowaway. #BillyinDC,' Stamos jokingly captioned the post. He brought his son along for his professional engagement. This is the second year the Emmy Awards winner will be hosting the annual free concert.
Click or swipe right to see the video in the slideshow above.
Billy's online appearance comes soon after his official social media debut on June 17, the first Father's Day the actor spent after becoming a parent together with his wife, Caitlin McHugh.
'My first Father's Day means that I don't have to hand a kid back to the parents when someone yells cut. It means when people ask me if I'm a father, I don't have to use the goofy line, "No, but I play one on TV"', he wrote then.
'Most importantly, it means that for the rest of my life, I'll always be known as someone's dad. And that's all I ever wanted,' the General Hospital star added.
Stamos and McHugh revealed they were expecting their first child in December 2017, two months before the two got married. As he had previously shared, Stamos was eager to start a family.
'It would be a tragedy if I didn't have children and I finally found the right woman — the perfect woman. I know my parents are smiling down. I know they would love her. She's a gentle, kind, graceful soul who would be a good mother,' he told ET in November.
Please fill in your e-mail so we can share with you our top stories!