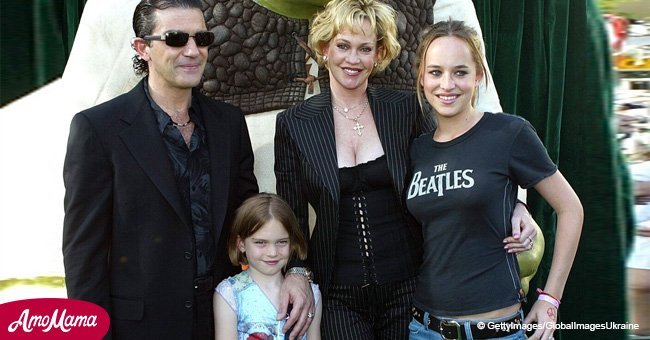 Antonio Banderas' daughter is all grown up and looks like her legendary grandmother
Stella Banderas looks stunning at 21 years of age, and there is no doubt that she shares her beautiful look from her famous grandmother.
The daughter of Antonio Banderas and Melanie Griffith, Stella, looks at a splitting image of her famous grandmother and talented actress, Tippi Hedren, as revealed by a quick glance over her Instagram account.
Several photographs posted on her social media timeline reveal the 21-year-old daughter of Banderas sharing many of the features with her grandmother.
Hedren, who is famous for her iconic roles in movies like The Birds and Marnie is also well known for her beauty and her expressive eyes. And it seems Stella has borrowed some of her talents in this department.
Follow us on Twitter to learn more!
One of the first noticeable things about Stella is her perfect blonde hair and her 'expressive' eyes, which she seems to have directly inherited from Hedren. Stella also shares similar facial features as her grandmother.
Even some of her fans noticed some attributes in her that are similar to Hedren. An Instagram user, Teresa wrote, 'You look like your grandma, Tippi.'
Lesley Rafes further added on another photo: 'You look like your grandmother. Beautiful.'
Regarding the acting side of things, Stella has only ever appeared in movies as a small child so far. But coming from a family of brilliant actors, she could be well on her way to follow in the famous footsteps of her grandmother, mother, and father.
Few other people in the comments section also felt that Stella looked a bit like her father, and a lot like her half-sister, Dakota Johnson, who is Griffith's daughter with Don Johnson and another well-known actress in the family.
Another photograph shared by Melanie Griffith on Instagram also showed that the childhood version of Stella looked a lot like the childhood version of Griffith.
The photograph comparing the mother-daughter duo side-by-side proved that Stella still shared some of the features with her mother, especially her eyes.
The photograph was posted in 2017 as a throwback snapshot. Griffith captioned it as, 'Mother and daughter throwback photos! Mine way back! Hers not so far!'
Stella's father, Banderas, recently made a casual appearance in the public on July 2, following his surprising revelation about a serious health scare back in January, as per Daily Mail.
During his outing, Banderas looked happy as he was accompanied by his 37-year-old girlfriend, Nicole Kimpel, in Madrid, Spain.
The actor cut a handsome figure in his T-shirt and black jeans as he walked hand-in-hand with his love.
Please fill in your e-mail so we can share with you our top stories!