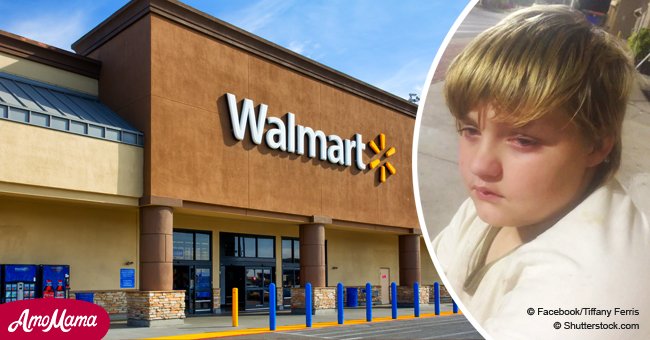 Boy with muscular development condition denied use of motorized cart by Walmart employees
This mother had gone shopping with her family at the popular chain store, but was horrified by the treatment her disabled son received from the staff there.
Tiffany Ferris from Winter Haven, Florida has an 10-year-old son named Cameron who suffers from both a language delay and a muscular development delay that causes him great pain at times.
Cameron regularly has to visit with with doctors who are still trying to help stabilize his condition, and has had to wear special shoes, and used wheelchairs at school. His parents also regularly have to rub his legs at night so that he can sleep.
But despite all the allowances his family and his school have made for him, he wasn't about to receive the same treatment from the staff at Walmart.
Ferris took to Facebook to share her story at the end of June 2018.
While the family was in the store, he started experiencing leg spasms. So his mother got him a motorized cart to sit in while they completed their shopping.
Ferris stepped away from her son for a moment, and when she returned a Walmart associate was busy telling Cameron that he wasn't allowed to use the motorized cart.
The young boy was trying to explain to her why he needed to, and she just kept talking over him. Ferris' husband approached a floor manager to explain the situation, who apologized and promised it wouldn't happen again.
When they finished their shopping, they were told that they would have to self-checkout, as there are no cashiers available between 10pm and 7am.
It was at that point that another staff member started making a scene about Cameron being on the motorized cart.
Ferris started getting agitated, asking the woman if she really wanted to have this argument again. She then explained her son's condition, and that he couldn't walk properly.
"I DONT REALLY CARE ABOUT THAT, But minors can't ride our carts it's policy because it's a liability," Ferris wrote was the woman's response.
Unfortunately for the employee and the store, no such policy exists at Walmart, and Federal Guidelines outlaw discrimination of any kind with regards to motorized carts in supermarkets.
By this point, Cameron was crying with embarassment at the scene being made, and the general manager of the store stood by watching.
Eventually, Cameron went to sit outside on the sidewalk to wait for his father to complete checkout.
According to Ferris, her son is now terrified to go to a store because of the experience.
Please fill in your e-mail so we can share with you our top stories!