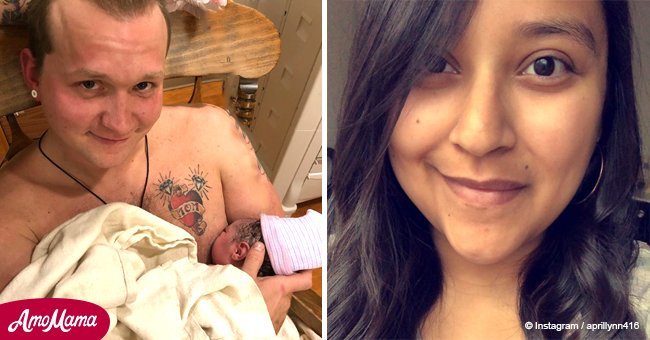 Wisconsin father 'breastfeeds' daughter when wife isn't able to

Taking advice from the nurses at hand, the new father tried on a 'fake nipple' to imitate the breastfeeding process.
Maxamillion Neubauer may not have thought he would do anything like this in his wildest dreams, but when it came to the health of his newborn, he didn't hesitate for a second, as reported by People Magazine.
His wife April Neubauer suffered from PCOS, and doctors had told her that having a child would be very difficult for someone with this disorder.
When April eventually got pregnant, the couple was overjoyed, but that was not the end of the road for them.
During her labor, April suffered multiple seizures and became unconscious, prompting the doctors to perform an emergency C-section immediately.
The operation went without a hitch, and Rosalía Lupita Valentina Neubauer was born. Read more about the family on our Twitter account @amomama_usa.
However, as is the case with most C-section deliveries, if opting to breastfeed, the child must be habituated to breastfeeding as soon as possible after childbirth.
Since April was still incapacitated after the delivery, Maxamillion immediately stepped up to help.
The head nurse suggested the nipple shield technique, wherein a nipple shield is applied on top of a person's nipple, which connects to a syringe filled with baby formula.
The baby can then grip on the fake nipple and feed on it immediately. Much to the surprise of the nurses, Maxamillion was immediately accepting of the idea, as no father had ever agreed to this before.
The 29-year-old is just grateful that he was able to be there for his wife and daughter. He said that the experience was initially awkward as he had no idea what to do.
With the help of the head nurse, he was able to hold the baby in his arms correctly and feed her. He says it was an extraordinary experience.
Once April woke up, Rosalina was given to her mother for proper breastfeeding. As per the latest reports, both mother and child are doing well and have been safely discharged from the hospital.
Please fill in your e-mail so we can share with you our top stories!