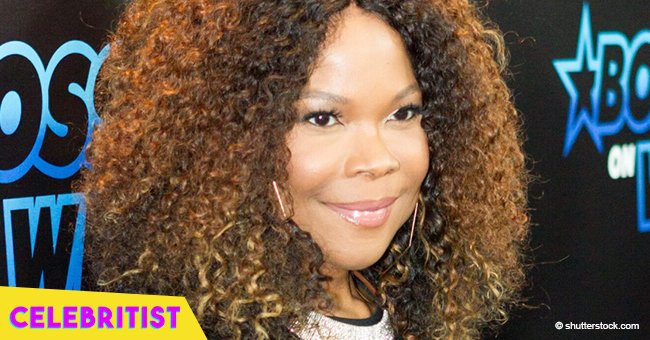 'The Haves & Have Nots' Angela Robinson melts hearts with 1st glimpse of baby son & husband in pic
Angela Robinson has earned the professional success she was looking for thanks to her run on the OWN series "The Haves & Have Nots," but after two decades with her husband, something was missing in their lives, so they decided to adopt a baby boy.
The 54-years-old actress, who plays villain Veronica Harrington on Oprah Winfrey Network's soap opera, has nothing in common with her character. In real life, Angela is a jovial, loving and dedicated wife, daughter, and sister, and recently, she earned the title of "mom."
She married actor Scott Whitehurst in 1996, and after 21 years together and no kids on sight, the couple recently decided to add more color to their family life with a little bundle of joy. Angela revealed to the world on June 17 that she's now the mother of an adorable baby boy named Robinson Scott.
After so much time being by themselves, Angela and Scott decided to give a baby a second chance, so they went for adoption instead of another method to conceive a child.
It was Whitehurst' first ever Father's Day, and Robinson expressed her happiness sharing a beautiful family portrait on Instagram where she's holding the baby and her husband is grabbing the boy's foot, writing in the caption:
"Adoption has gifted us beyond measure. Wishing my husband the Happiest FIRST Father's Day Ever. #blessed #newparents #seasoned #inlove #godstimingisperfect #reallife #fathersday."
Fans of the actress took to her comment section to leave their congratulations and well wishes.
Instagram user @stujames1 wrote "Huge Congratulations!!! Robbie is blessed to have you two as parents for sure!! Exciting!!!," @deborah_hines added "Congratulations to you both, may you have a lifetime of happiness also Happy First Father's Day to your husband!!!" and @ajsg.artist4life said "So Awesome! Adoption of a child is one of the most Loving things a couple can do! Bless you!"
Now that there's a baby in the Robinson-Whitehurst household, Angela will be busier than ever. Not only is she still in the middle of filming for "The Have & Have Nots," but she also runs another business called The WhiteRobin Group, which is a consulting firm for artists.
However, Angela knows how to manage her time, and speaking to the LA Sentinel a few months ago, the actress what she does in her free time saying:
"I love spending time with my family. I have probably the most amazing husband that ever lived. So, spending time with him is great and my family and my church. I write an inspiration blog for artists. I do a lot of motivational speaking, so I'm on the road a lot. I'm a spokesperson for the United Negro College Fund, so I stay busy."
"The Ice Queen," as fans of the show have titled Angela's character, gave her the opportunity of a lifetime, and even though she admitted it could be a bit overwhelming to be recognized on the streets, she also earned a public platform to speak about issues that are important in her life.
"I've been acting a long time, and I had dreams of being an actor even longer, so being able to do what I love is such a blessing. It's helped me want to inspire other people to do the same," she explained of her work.
Congratulations to Angela and her husband on the new addition to the family. The boy is lucky to have such a loving couple as his parents, and we can't wait to see more family portraits in the future.
Please fill in your e-mail so we can share with you our top stories!