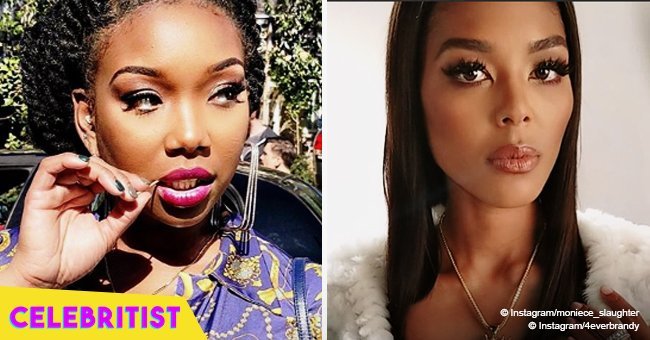 Moniece Slaughter throws shade at Brandy after gaining weight
"Love and Hip Hop" star Moniece Slaughter claims Brandy had just given birth after hiding her pregnancy from the public.
With the latest season of "Love and Hip Hop: Hollywood" premiering in a couple of weeks, tension has been building both on and off camera. Yesterday, VH1 revealed an extended trailer for Hollywood's upcoming season, right after the "Love and Hip Hop: Atlanta" finale. In the trailer, it hinted at the rivalry between Princess Love and her famous sister-in-law Brandy, which explains the rant by their cast member Moniece Slaughter.
As previously shared by The Jasmine Brand, after Princess and Brandy exchanged a few words, Moniece took to Instagram to explain why she wanted to slap a pregnant Princess Love when she had not given birth.
Slaughter claims that Princess asked for that particular scene despite her telling everybody to wait until she actually gave birth. She also said that Love has been speaking about her son since season 2, and has not stopped. Because of her motherly instincts, Moniece told producers that she cannot promise to keep her hands to herself after everything she has said about her son.
"Just because her stomach was with child didn't mean her face was. You can't go a whole S4 without seein me then wait til you're pregnant to sit in my face talk [expletive] about my brother and my motherhood and expect not to feel the wrath."
Slaughter continued her rant, saying that her co-star cannot just put herself in harms way voluntarily during pregnancy, and then say that she was going to show her how to be a good mom. She goes on to say that her Princess has no right to bash her motherhood after three long years, and expect her to respect her own motherhood journey now that she has given birth.
As for how she thinks this matter could be solved, she said Ray-J's sweetheart has two options: to apologize for everything she said on the rooftop during season 2 that started this feud, or square up.
While everything on her rant seemed to have been about Princess and Moniece, she revealed a shocking statement at the end which was dedicated to Brandy. In the comment, she said:
"Praying that your baby is born healthy and strong @4everbrandy Sorry I didn't make it to EMC in time to congratulate you in person."
As of now, neither Princess Love nor Brandy have responded to Moniece's long Instagram rant.
However, we can all expect to see the continuation of this drama transpire on season five of "Love and Hip Hop: Hollywood", which premieres on VH1 on Monday, July 23.
Please fill in your e-mail so we can share with you our top stories!