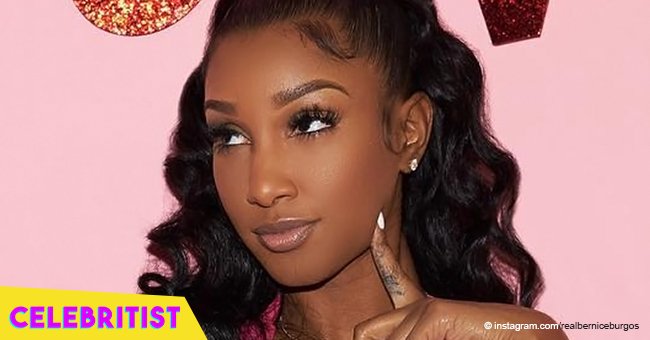 Bernice Burgos stuns with long blonde locks and blue bikini in recent picture
The model and former bartender became famous after she was involved in a cheating scandal with rapper T.I. Burgos even dared to mention Tiny Harris on social media, and the singer put her on her place.
Bernice recently stunned followers showing off her curves in a tiny blue and orange bikini and rocking long blonde hair while seating at the edge of a pool holding a ball with the American flag on it. "I'm looking at you baby," she wrote in her caption, making her followers fill her comment section with praises.
Instagram user @1kdarne wrote "This woman is a grandmother. Let that sink in," and @minetou.arby added "Waaawww can't believe she is a grandmother. You look beautiful."
Bernice Burgos is one of those Instagram models that became famous from day to night because they got involved in a relationship that wasn't them. Last year, the rumor mill was filled with comment from people alleging T.I was about to leave his wife Tiny Harris for the model.
Shade was thrown from both sides, with Harris calling Burgos a "pass around [expletive]" and Burgos stating that the only one who had made vows to Tiny was her husband, so she had to fix her issues with him and don't bother Bernice.
Everything went out of control when Bernice posted a now-deleted video on her Instagram account singing to one of Xscape's songs with a friend. Tiny saw the act as a provocation and took to her Instagram to post a photo tagging Bernice on it saying: "Funny... [Bernice Burgos], that Man U speaking of was laid up with his wife last night," she wrote, "So quit being petty cause clearly u getting lied too if u thinking anything different. Hope u didn't take him serious! Now keep sanging my sh*t! U know u slick a fan anyway." The post has also been deleted.
The fight gave Bernice more exposure, and to his day, the hot model has over 4 million followers on Instagram.
Just a few months, Bernice became a grandmother at age 37, since her 21-years-old daughter gave birth to her first daughter, India. Even though she kept Ashley's pregnancy a secret for a few months, Bernice later went on a rant addressing the haters for saying she was a bad mom for letting her daughter get pregnant too young.
Burgos made sure to let everyone one that she will always support her daughter with her decisions, and that the girl is more than happy with her baby girl.
Please fill in your e-mail so we can share with you our top stories!