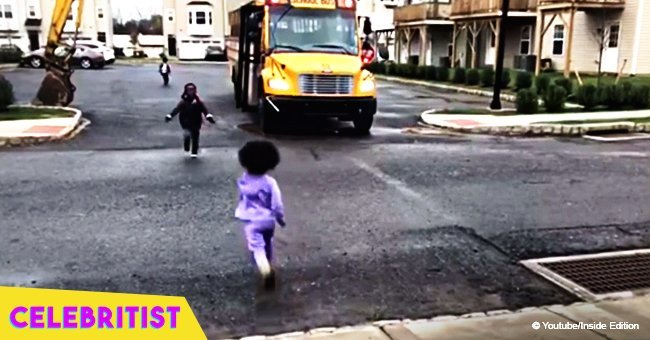 Little girl hugs her borther in delight everyday after tough day at school

A recording portraying three-year-old Ava and his brother, five-year-old Tariq hugging each other has gone viral because it shows pure sibling love.
The video starts displaying a school bus parking on the street. Then, Ava is shown looking at the bus and, as soon as the children began getting out, she started jumping in the place as a way to show her excitement.
As soon as Tariq got off the bus, both children ran toward each other, clearly happy to be together again. Seconds later, in the middle of the street, the siblings shared a big hug.
Tariq even held her sister up and took her to the sidewalk. Later, the video showed that Tariq was kissing Ava on her forehead and that the siblings were walking side-to-side.
The mother of the children, Verlonda Jackson, told Fox 7 that Tariq and Ava used to attend the same daycare. However, things were different as they used to bicker and fight, like most siblings.
Everything changed when Tariq started kindergarten, and the siblings were forced to spend time apart from each other. Verlonda pointed out that the excitement and love they felt in the video is pure.
Verlonda shared the video on her Instagram account and wrote a touching message about her children. She revealed that the siblings spend most of their time fighting over things like who is better at whatever game they play or who gets the biggest piece of cake.
From time to time, their arguments make Verlonda wonder what she is doing wrong. However, every afternoon when Tariq gets off the school bus, they hug each other, proving that they really enjoy each other's company.
'As a parent that's the best I can hope for. That my babies will fight and forgive. That they will practice what it means to be a human with each other. That they will learn when to stand their ground and when to let something go. That they will learn to be siblings, maybe even favorites,' said Verlonda.
Please fill in your e-mail so we can share with you our top stories!