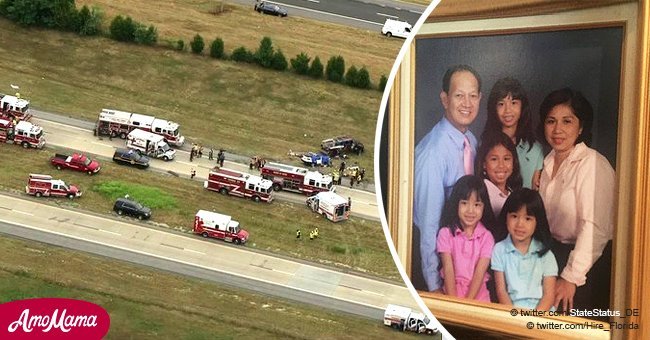 Filipino mother survives crash that killed her whole family
A family of six was involved in a tragic accident in Delaware, but while Mary Rose, the mother, survived, her husband and daughters didn't have the same luck.
The fatal crash took place on Friday, July 6, 2018, on Route 1. The family was returning to their home in Teacneck after a short Fourth of July holiday trip to Ocean City, in Maryland.
According to The New York Post, Daniel Trinidad, the brother of Audie Marquez Trinidad, the father, the bodies of his family members were unrecognizable.
The family was heading north on Route 1 when a 2007 Ford F-350 pickup truck crossed a highway median and hit their 1998 Toyota Sienna, near the town of Townsend.
Please consider following us on our Twitter account @amomama_usa to learn more.
The victims were identified by the police as 61-year-old Audie Trinidad, 20-year-old Kaytlin, 17-year-old Danna and 14-year-old twins Melissa and Alison.
While Mary Rose and Audie were wearing seatbelts, their daughters were not. The driver of the truck, whose identity is yet to be revealed, was wearing a seatbelt and was treated at the hospital before being released.
The truck, a commercial vehicle with an extended carb that was still lying on the scene on Saturday, had a decal that read 'Aledak Metalworks,' a metal fabrication shop.
The local authorities used the information to contact Donald David Robbins, the owner of the shop, but they didn't manage to reach him. As for the family's white minivan, it suffered massive front-end damage.
In order to get the victims out of the vehicle, the emergency rescue team had to cut the roof off, which was could be seen lying upside down on the ground. According to Larry DuHadaway, an off-duty firefighter who rushed in to help, it was the worst crash he has in 28 years.
Daniel, whose brother was a former Navy officer, is now concerned about his sister-in-law, a nurse at Beth Israel Medical Center in Manhattan, who is in the hospital with multiple fractures.
After learning of the tragedy that fell upon the family, friends and neighbors have been leaving flowers at the entrance of the family's home as a tribute to their memory.
Please fill in your e-mail so we can share with you our top stories!