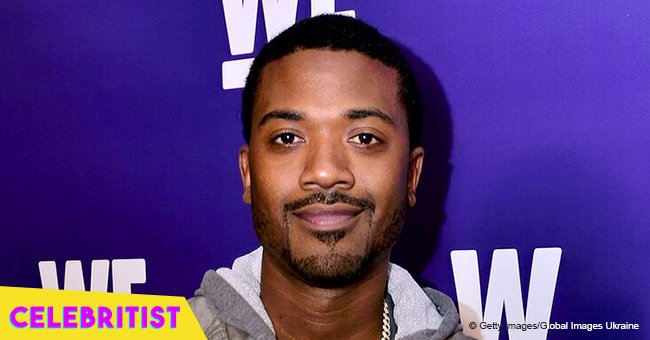 Ray J melts hearts with video of him singing to his baby daughter Melody

Ray-J delights his daughter with a made-up tune incorporating her nickname in a video he recently posted. The doting dad who seemed to be enjoying his daddy duties once admitted to wanting to spend as much time with his newborn while building an empire for her future.
If your father is a singer and songwriter, you can expect to be serenaded with a song specially made for you. That's precisely what little Melody Love Norwood probably thought when she delighted in her father Ray J's voice, as he sang her a tune.
An adorable clip posted by proud new dad Ray-J is impressing his followers with his unique fathering style. His voice could be heard in the background singing to his daughter Melody a song with lyrics tailor-made for her. The R&B singer appeared to be on daddy duty when he suddenly burst into song singing,
"I'm saying Hello Melo, Hello, Melo"
The cheeky one-month-old seemed entertained as she smiled and reacted to her father's melodic voice. Her eyes grew wide and patiently listened to the familiar voice, the same voice that probably also sang to her when she was still in her mother Princess Love's womb.
"playin around wit my baby!!!", Ray-J began in his caption and added,
"makin up songz all day to keep it going smooth lol!! #DaddyDuties #HELLOMELO"
It's clear Ray-J dotes on his firstborn who initiated him into fatherhood. Since her birth, the man has been all about being there for her, excited at the prospect of watching her grow.
During his interview with Rolling Out ahead of his first Father's Day, the 37-year-old reflected on being a first-time father.
"I'm excited to be a part of the club, it's made my respect level for life go up. It changes how you think and move. I want to be with her as much as possible. I don't want to miss anything. I'm glad I had a daughter first because with a boy you have to teach him stuff and it's just a little different. Having Melody has changed the way I see things. It's just a heavenly blessing."
Meanwhile, the singer has also been busy building a legacy that he can hopefully pass on to his daughter and future children. Speaking about his technological venture 'Raycon,' the determined entertainer said it was essential to him to have something to leave to his children.
"It was very important to me to create something that would create a legacy. I wanted to do something that had the ability to earn billions of dollars — like really had the ability to do that."
And that's exactly what he's doing with his company which evolved from his love of video games and gadgets. Since starting off with one Scoot E-bike, he's branched out into wireless earphones, speakers, smartwatches, drones and other options for Scoot E-bikes.
Ray-J hopes that through his company, he could create a shift in culture.
"I think we're still in the dinosaur ages right now. There's so much more we can be doing to sell music, products, etc. There are ways to build a technology component and integrate music through the technology."
Melody is one lucky daughter to have a father who doesn't only sing to her but looks out for her future.
Please fill in your e-mail so we can share with you our top stories!