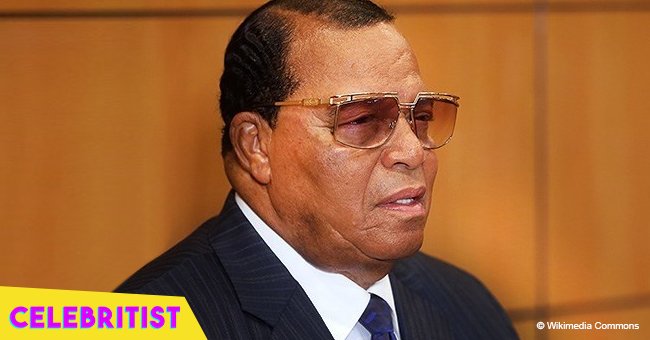 Eldest son of black religious leader passed away in his sleep
The Nation of Islam, one of the largest religious and political African American movements, is mourning the death of one of its most important members, the eldest son of Minister Louis Farrakhan.
Louis Farrakhan, Jr., the eldest son of Minister Farrakhan, died on June 1 in the family's home in Phoenix, Arizona. Louis Jr. died in his sleep in what Ishmael Muhammad called a proof of "Allah's mercy."
According to an official statement released by the Nation of Islam, the family was aware of a heart condition that affected the man, but they didn't disclose the official cause of death.
He's survived by his father, his mother Khadijah Farrakhan, his wife Bridget Dominguez-Muhammad and his six children from a previous marriage.
Louis Jr. was 60-years-old and a dedicated believer of the vision of the Honorable Elijah Muhammad, who led the organization from 1934 until his death in 1975, after the disappearance of its original creator, Wallace D. Fard Muhammad.
The funeral service took place at the Mosque Maryam in Chicago. It was filled with family, friends, and well-wishers that wanted to give their last goodbye to Louis Jr.
The official statement also said:
"We thank Allah (God) for the life of Louis, Jr., his contribution to rising of Black and oppressed people and for touching so many of us in a deep and very personal way. He worked alongside his father and family in fulfilling the mission of the Hon. Elijah Muhammad and the Nation of Islam and his dedication and sacrifice to our cause will never be forgotten."
According to Muslim tradition, there were no flowers at the funeral because it is said that flowers are for the living. Money that could be spent on them may be given to the surviving family to cover expenses instead.
There was no music played according to custom, and no litany of speakers because they sometimes bring more grief to the mourning family and add pain to their loss.
Ishmael Muhammad, a son of the Hon. Elijah Muhammad and assistant minister at Mosque Maryam led the ceremony by giving words of comfort to the family. According to The Final Call, he said:
"The Holy Qur'an says Allah takes men's souls at night and those on whom the decree of death has not passed arise the next day. We don't know when we will leave this world but life is short so what are we doing with the time God gives us? We were expecting Louis to live, but Allah knew what would happen, so we should be good to one another in our daily lives, avoiding grief and sorrow when the one we love passes."
And he added:
"It appears Brother Louis was sleep, and Allah took him in his sleep in the family home; this represents Allah's mercy. Brother Louis didn't die in gun violence or a plane crash but in his sleep in the blessed month of Ramadan, where Prophet Muhammad said the gates of heaven are wide open in this month."
Minister Louis Farrakhan spoke briefly at a repast which was also an iftar (breaking of Ramadan fast) after the funeral, saying:
"I did not know so much love was out there in the streets, but Louis helped to create it because of his manner, his method, the beauty of his heart. It touched those who came from near and far to be here to celebrate his life. He was a great representative of what Islam should bring about in the family and among us in a real strong, devoted brother."
He also added:
"Your being here is a testimony to who Louis really is. I pray that this is not just a wonderful Iftar, and breaking of the fast, and celebrating the Life of Louis. I pray that the beauty of that man will inspire us to continue on the path of Islam."
May he rest in peace.
Please fill in your e-mail so we can share with you our top stories!