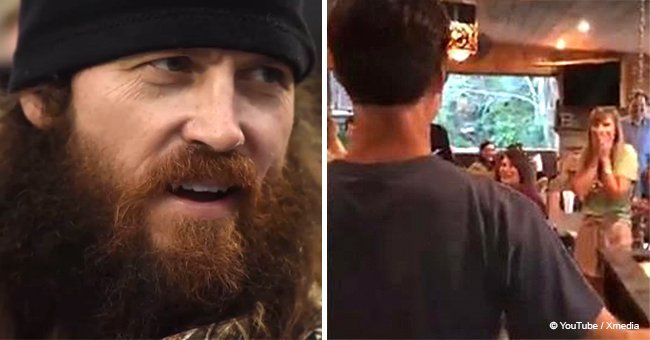 Here's how 'Duck Dynasty' star Jase Robertson looks without his signature beard
Six months after the reality show that made him and his family famous aired its final episode, professional hunter Jase Roberston caught the attention of the public once again with a radical change of look for a good cause.
On September 2017, the 48-year-old reality star was left completely unrecognizable for his fans after he cut his hair and shaved off his iconic beard, as Fox News reported.
This was a completely unexpected move from an individual that doesn't consider a man complete without fully-grown facial hair. Read more on our Twitter account @amomama_usa
'There are two kinds of people in this world that go around beardless – boys and women – and I am neither one,' is a famous and ancient Greek saying, and Roberston helped popularize it in present-day America.
He has lived by this principle for a long time know, but he found a very respectable reason to go against his nature in order to help others after he paired with his daughter Mia's charity foundation, the Mia Moo Fund
The A&E former star promised he would shave his face if he managed to raise $100,000 for the cause that involves raising awareness and helping children with cleft lips and palates.
Mia herself was born with cleft lips and has undergone four surgeries since birth, and her story inspired many people to offer support to other children in the same situation, as the foundation's website explains.
'As Mia entered surgery, thousands of supportive fans tweeted, blogged and talked about how strong and beautiful she was. It was both empowering and inspiring', reads a statement on the site.
'It has since become our mission to bring this type of support and love to each and every child that suffers from cleft lip and palate,' it continues, inviting the public to contribute with funds for this honorable initiative.
Jase's goal for the fundraiser was not reached, as he only received $35,000 but he decided to show his commitment and proceed to have his beard shaved anyway.
His wife, Missy, who reportedly had not seen Jase without facial hair in seven years, was very pleased with her husband's changed look, although she probably knew it was not going to last.
Jase has grown a full beard once again, as we can see in his social media, but the public won't forget the opportunity they had to see how the famous duck hunter looks underneath all that hair.
Please fill in your e-mail so we can share with you our top stories!