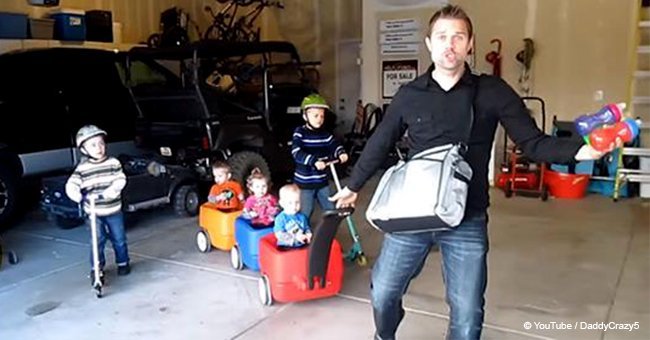 Mom made hilarious video of dad and their 5 kids as a family gift, but it quickly goes viral

Chad Morton of Taylorsville, Utah won people's hearts after a video of him doing a parody of the LMFAO song 'Sexy and I Know It' with his family.
Shared on YouTube channel DaddyCrazy5, the video shows Chad grooving to the hit dance song with his triplets and their two older brothers.
The viral video, titled 'I'm a Daddy and I Know It', has amassed more than 13 million views and more than 2,000 comments since it was posted on December 24, 2012.
"This is how we do it with 2 older boys + triplets!!! Here's our silly video creating fun family memories. It made an AWESOME white elephant gift for our families. Created and directed by Mommy," Chad wrote in the video's description.
Follow us on Twitter @amomama_usa
The two oldest boys were five and seven years old and the triplets were 22 months old when the parody was recorded.
They made the video for the family's Christmas celebration in 2012.
"One night, my wife and I were sitting on the couch and Angela said, 'Why don't we do a music video?'" recalled Chad, as reported by Deseret News.
"We sat there brainstorming for a Christmas song, and we couldn't think of anything funny, so then we started thinking of other songs, and we thought of 'Sexy and I Know It,'" he continued.
At that time, the song was ubiquitous, playing in radios everywhere.
Chad said their children enjoyed the process. "As soon as we brought out the camera, they were super excited and got real goofy. We've got tons of footage we didn't use for the video of them being goofy, but we were trying to figure out what scenes would best go with the lyrics," he said.
As the parody went viral, the family got invitations to appear on various television shows. They even appeared on the German celebrity gossip program, Taff.
Please fill in your e-mail so we can share with you our top stories!