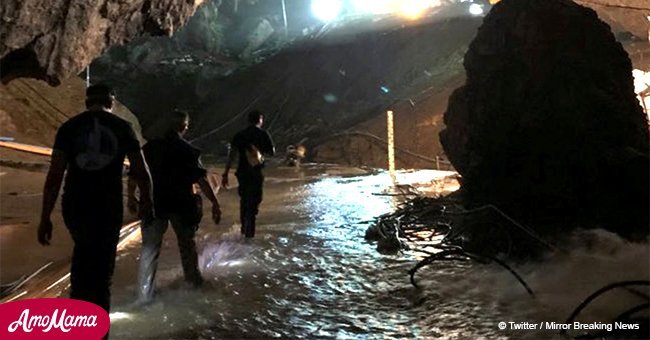 Update: Boys soccer team trapped in cave at possible risk of rare infection
While a rescue mission is underway to free the 12 boys and their soccer coach from a flooded cave in Thailand, experts fear another danger.
As reported by ABC News, eight boys have already been freed, and the arduous mission continues, but some of the boys might be infected with a fungus called Histoplasma capsulatum.
The infection is known as speleonosis or cave disease. It affects the lungs. Read more on our Twitter, @amomama_usa.
The fungus is found all over the world, from caves to riverbanks, and thrives in the soil where it is nourished by bird droppings or bat droppings.
The infection could be confused with flu as the symptoms include fever, cough, fatigue, body aches and chest pain, as reported by Express.
Two of the four boys rescued thus far were tested positive for lung infections, but additional tests are required to test of speleonosis. So far, none of the boys have a fever.
Additional tests might require blood and urine samples, as well as x-rays and a CT scan, in some cases. Thankfully, the disease dissipates over time, but someone with severe symptoms would require additional medical treatments.
According to Live Science, the team might be quarantined before they will be allowed to reunite with their loved ones.
Other issues to pay attention to would be infections from minor scrapes and bruises, which could also lead to severe problems if not treated properly.
The soccer team, consisting of 12 boys aged 11 to 16 and their coach, went missing on June 23, after they were trapped by monsoon floods and were forced deeper into the Tham Luang caves in Thailand.
Search parties and divers found their belongings the following day, deep within the cave, and the search continued.
It took the diving teams more than nine days to locate the boys because they had to navigate difficult terrain through the confined passages and dangerous waters.
Please fill in your e-mail so we can share with you our top stories!