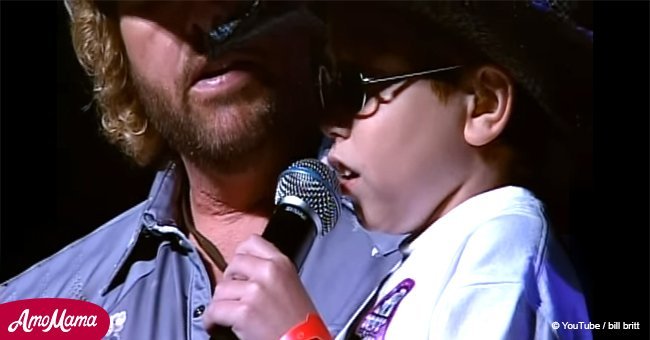 Country star invited sick boy on stage to sing tear jerking duet with him
Toby Keith invited 10-year-old Trevor Scott onto the stage and let him share the microphone to grant his once-in-a-lifetime wish of singing with the country icon.
A video uploaded to YouTube showed Keith starting the words to one of his famous songs, American Soldier, and Scott later joining him to sing the duet.
Amid the encore of the concert audience, gathered at Blossom Music Center, the young boy proved everyone just how big a Toby Keith fan he was.
During the performance, Scott sported a country boy hat and a Toby Keith T-shirt. He also proudly carried his medical bracelets and wrapped hand as he walked confidently on the stage.
Follow us on Twitter to learn more!
Scott is in an urgent requirement of a liver transplant, because of which his future lies in uncertainty. So, Make-A-Wish Foundation helped make his dream come true by providing him with the platform to sing alongside his icon, Keith.
Before the performance, Scott got a chance to meet the country legend backstage. Taking his opportunity, he also asked Keith if he could join him on the stage. Keith happily agreed, much to the delight of the young boy.
On the stage, Keith began the performance by singing a few opening lines from his famous song. He then allowed Scott to sing the next few lines. The country star then realized that the young boy did not require any help or backup.
Scott showed his command over the lyrics and the tune to the song, prompting Keith to drop out and let Scott perform the song on his own.
The legendary artist just stood next to the boy in support, all the while mouthing the words to his song and watching the boy with pride.
When the performance ended, the audience applauded the two stars with a great show of energy while the duo honored the crowd with a proud salute.
Please fill in your e-mail so we can share with you our top stories!