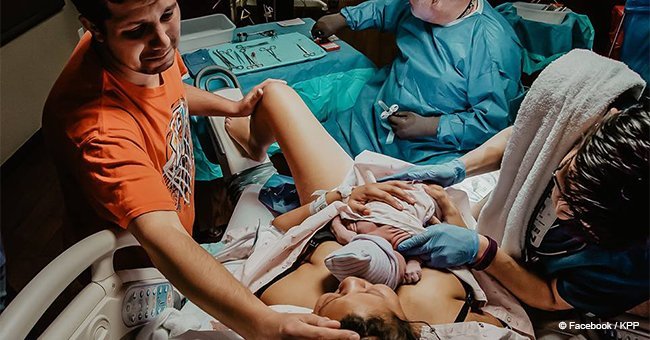 New dad reveals touching reason why he cried during baby's birth

The new father cried during his baby's birth, but no one could've figured out the real reason behind his quiet sobs.
Kirstie Perez, an experienced birth photographer, told the father that she captured him crying seeing his son, but he said, "That's not why I was crying."
He then revealed that he cried because that was the very first time he had seen his wife's smile in 10 months.
Follow us on our Twitter account @amomama_usa to learn more!
The mother had been suffering from Hyperemesis Gravidarum, a condition characterized by severe nausea, vomiting, weight loss, and electrolyte disturbance, during her pregnancy
The husband had been at her side throughout it all.
Perez, who was hired by the couple to document the culmination of this experience at the hospital, caught the moment this new father broke down in tears. She later talked to him about it.
But when he revealed the real reason he cried in front of her camera lens, the couple's birthing photographer knew she had to share it with the world.
Perez took to Facebook to share the husband's story along with a series of striking photographs from that magical day.
"He helplessly watched his wife vomit profusely for 285+ days," she wrote. "He witnessed her lose 30 pounds in pregnancy not being able to nourish herself due to Hyperemesis Gravidarum & preeclampsia."
Throughout her pregnancy, the mother was taken four times to the hospital due to dehydration.
Perez added: "Ate more dinners on the front steps of their home than he could count because any scent literally made her ill. After months of simply being there for her as much as possible, he supported her during birth."
When Perez told the father that she captured him crying when he saw his son, he said to her, "That's not why I was crying."
Perez then asked him what he meant because she was confused.
The father teared up again and replied: "This is the first time I have seen her smile in 10 months."
Perez wrote: "Men, please understand how powerful your empathy can be. To all of the mothers who have traumatic pregnancies and still find a way to smile…thank you for sacrificing yourself and enduring to bring your precious child into the world. That is no easy feat."
Please fill in your e-mail so we can share with you our top stories!