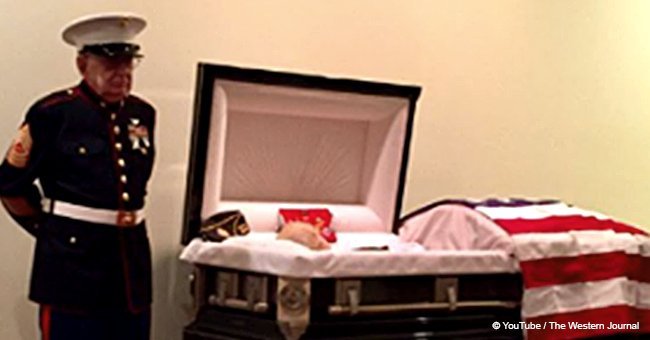 83-year-old veteran keeps promise he made in Vietnam bunker almost 50 years ago

Retired Marine William H. Cox kept the promise he made to his fellow retired comrade, James "Hollie" Hollingsworth, by staying in touch even after 50 years.
The two former marines proved that the bond between two soldiers, who fought alongside one another in Vietnam, only strengthened with time, as reported by Newsner
Retired Marine Master Sergeant Cox promised his friend, Retired Marine First Sergeant Hollingsworth, in the Marble Mountains of Vietnam on New Year's Eve in 1968 that they would contact each other every year on New Year's eve should they survive the war.
The two soldiers not only survived, they actually kept in touch with each other on every New Year's Eve.
Follow us on Twitter to learn more!
Earlier this year, the 83-year-old Cox traveled from Piedmont, South Carolina, to visit his now 80-year-old former Marine friend, Hollingsworth, in Hephzibah, Georgia for the last time.
He met his friends just before he passed away, and he was even asked for a favor for one last time. Hollingsworth asked Cox to stand guard over his casket and deliver a eulogy at his funeral.
"I said, 'Boy, that's a rough mission you're assigning me to there,'" the Greenville Online quoted Cox as saying.
Then, on October 20, Cox made the trip to Georgia to wear his dress blues and stand guard over his friend beside whom he had battled in the Vietnam War.
He remembered those torrid times when their friendship had fostered and strengthened in his eulogy. He shared one of the phrases that had become a part of their friendship: "Hollie, you keep 'em flying, and I'll keep 'em firing."
Hollingsworth's son later took to Facebook to share the emotional photograph that revealed the retired soldiers enjoying a good chat together.
He captioned the photograph by writing that he is always proud of his father and his service to the country. He also wrote that the two retired marines flew over 200 missions on the same Huey in Vietnam,
Please fill in your e-mail so we can share with you our top stories!