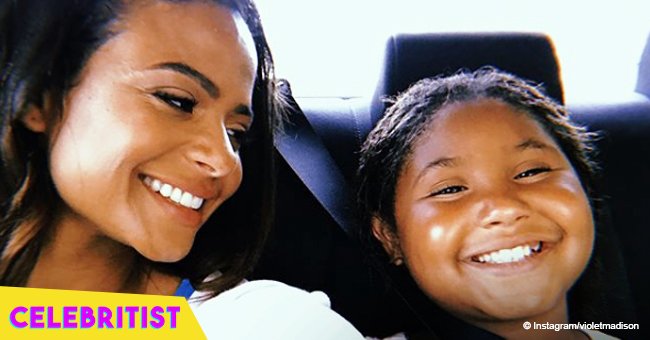 Christina Milian sparks debate over 8-year-old daughter's body after sharing swimsuit pic
The American actress and singer-songwriter is also a proud mother, and often shares photos of her precious little girl to her social media accounts when they are off enjoying adventures.
36-year-old R&B singer Christina Milian has an 8-year-old daughter, Violet Maddison Nash, with her ex-husband, Grammy winning producer Terius Youngdell Nash, better known by his stage name, The Dream.
On June 10, Milian took to Instagram to share two sweet photos of herself and Violet relaxing at Vivo Beach Club in their swimwear and sunglasses.
"Walk it like I talk it - Walk it like I talk it Aye!!! Make today ridiculously dope! @neverlovers," she captioned the lovely photos, shared in the same post together.
While Violet wore a floral orange and blue one piece swimsuit, a pair of orange-rimmed heart shaped sunglasses, and orange flip flops, her mother dazzled in a white and grey feather-patterned bikini top and matching sarong.
Milian also wore a pair of hoop earrings and a drop necklace, and carried a tote bag. The pair were holding hands, and both had left their hair hanging loose.
In the first image, Milian was looking at her young daughter, while in the second they were both looking at the camera as they walked towards it.
But while many loved the sweet photos, others decided to comment on Violet's weight when The Shade Room re-posted the photos.
"I hope they start making their baby girls eat more healthy! Like Michelle Obama talked about kids sitting around eating junk and getting diabetes!" wrote Jodi, while Internet Gangster added: "she just built like a refrigerator."
King KC also chimed in with "Overweight child most likely means over spoiled and no disciplined."
Others still decided to comment on Violet's hair, with some accusing her mother of allowing her to color it, while others felt it needed more work.
"Get this baby hair done. Damn," commented Mommy.
Fortunately there were plenty who also jumped to Milian's defense, explaining that Violet likely still only has baby fat, and will grow out of it as she hits her teens.
Please fill in your e-mail so we can share with you our top stories!