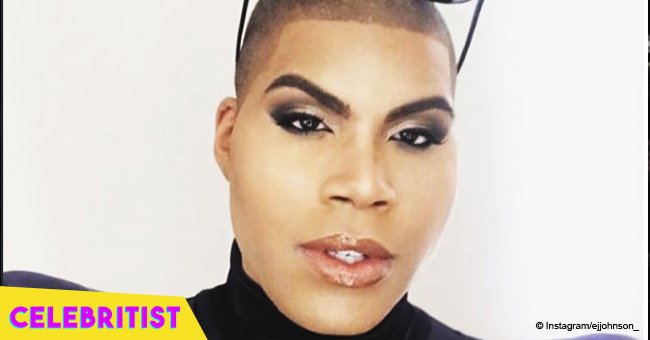 EJ Johnson steals the spotlight flaunting long legs in tiny shorts and glittery tights in pic
Magic Johnson's son knows exactly what looks good on him, as he proved by flaunting his toned legs in tiny denim shorts as he enjoyed a party in New York. Just a few weeks ago E.J revealed his struggle after coming out to his father and how they managed to move forward afterward.
E.J Johnson has become a fashion icon for young people that are not afraid of breaking gender barriers, and he has done it by overcoming society's prejudice when it comes to clothes and what is acceptable for a man to wear.
The 26-years-old star is turning heads wherever he goes thanks to his androgynous and daring style. A few weeks ago, amid celebrations of Pride month, E.J attended a party organized by Skyy Vodka in New York City, and he was the center of attention thanks to his outfit.
Wearing denim shorts, a sleeveless white top, glittery tights, and sneakers, E.J made his presence known in the room. He completed the look with sunglasses, as he posed flaunting his long legs in a platform with mirrors that had the inscription "Proud American" in the back.
"For the gurls #pridenyc #teamthis #unlimitedpride," he wrote in the caption of his Instagram post.
Just a few weeks ago, E.J and his mother, Cookie Johnson, visited the set of Jada Pinkett Smith's Facebook Watch show, "Red Table Talk" to discuss sexuality, gender, and love in the entertainment industry.
The pair joined Jada, her daughter Willow Smith and her mother Adrienne Banfield, in a 20-minute long conversation that gave fans a glimpse into E.J's life and his unafraid attitude. Speaking about his fashion choices, he said:
"The clothes speak to me. I've never been confined by whether this is in the men section or the women section, if I feel that this should be in my body then…it should be on my body. It's always been a lot for people to comprehend but it was just always who I was."
Cookie revealed that she knew her son was different since he was three-years-old when he started to ask for princess dresses and play with dolls. Later, in his teenage years, Cookie faced her son after a family trip to Hawaii where she caught him checking out other boys.
At the time, she reassured E.J she would love him no matter what but refrained him from showing his real self in front of his dad.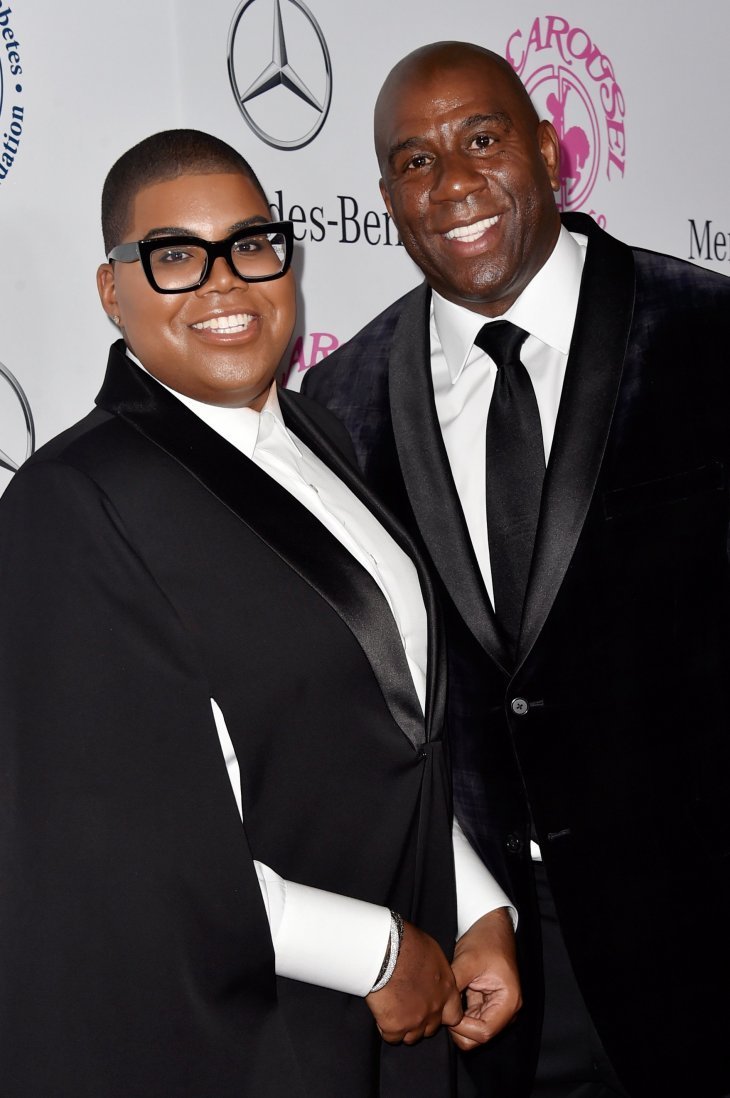 Credit: GettyImages / Global Images of Ukraine
However, they had "the talk" with Magic Johnson soon after, and the former NBA star didn't have the most welcoming reaction. He was afraid of what people would think or say about his son, but E.J realized his worries came from a protective place.
After talking it out and crying together, Magic said to E.J he just needed time, and they would be ok. Soon after, E.J left for college, and the next time he saw his father, Magic almost crushed his back in a tight hug.
Since then, Magic has been nothing but supportive of his son, and despite the mean comments he continually gets on social media for "allowing his son to dress like a girl," Magic believes E.J is helping make the world a better place, and he couldn't be a prouder dad.
Speaking to Ellen DeGeneres last year, Magic sent this piece of advice to parents with gay children:
"It's all about you not trying to decide what your daughter or son should be or what you'd want them to become. It's all about loving them no matter who they are, what they decide to do. So, you got to support your child, because there are so many people trying to discriminate against them, so they need you to support them. Because if you don't support them, who's going to support them and love them?"
E.J continues to cement his place in the entertainment industry, and while doing so, he's also inspiring young people not to be afraid of showing their real selves to the world.
Please fill in your e-mail so we can share with you our top stories!