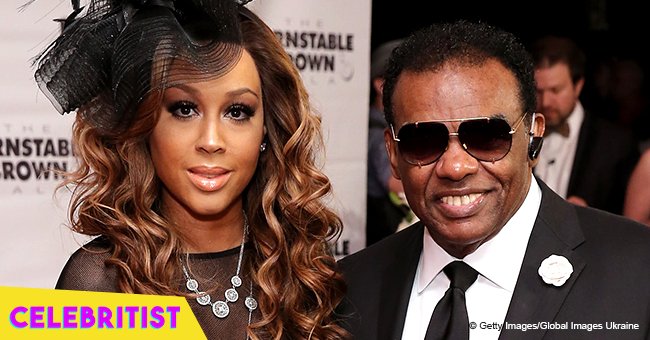 Ron Isley's son has grown into a fine young man in family pic, showing his resemblance to mom
The American recording artist, songwriter, record producer, and occasional actor has a son with his second wife, and he's growing up quickly if new photos are any indication.
Ron Isley was married to Angela Winbush from 1993 until 2002, when they quietly divorced after she beat ovarian cancer. He also has two daughters from other relationships, Trenish and Tawanna.
After that, he married a woman 35 years his junior, Kandy Johnson Isley, in 2005. In late 2006, the couple welcomed a son, Ronald Isley Jr.
In a recent Instagram photo shared by Kandy, she could be seen with her husband and her son as they celebrated another family member's graduation.
"With our G-son Geo! He graduated today who is on his way to college @HowardUniversity to play football #bison #collegeboundCongratulations!!!@gcgiv #newjersey," she captioned the shot.
In the image, Kandy is wearing a pair of silky yellow shorts, a matching yellow jacket, and a silky white shirt with lace detailing on the low cut neckline. She also wore a pair of bedazzled dark sunglasses, and drop earrings.
Her son wore a lime green shirt and a pair of blue shorts, and had a pair of headphones wrapped around the back of his neck.
Ron Sr. wore a grey suit, with a white and blue t-shirt under his blazer.
Another shot from the same day showed more of the extended family as the celebrations continued. In the images, the graduate was wearing a pair of fitted white trousers, and a loose fitting printed white shirt with gold and navy detailing.
Ron has not had a scandal-free life by any means.
In 2004, he was on tour in London with touring with his brothers, he suffered a mild stroke. In 2007, it was reported that he had kidney problems.
And in between, in September 2006 while Kandy was heavily pregnant with their son, he was sentenced to three years in prison for tax evasion.
The singer's fans was concerned about Ron at the time, not sure his health would survive his prison sentence. Meanwhile, the family was also concerned about Kandy and her pregnancy due to all the stress the scandal had caused.
Please fill in your e-mail so we can share with you our top stories!