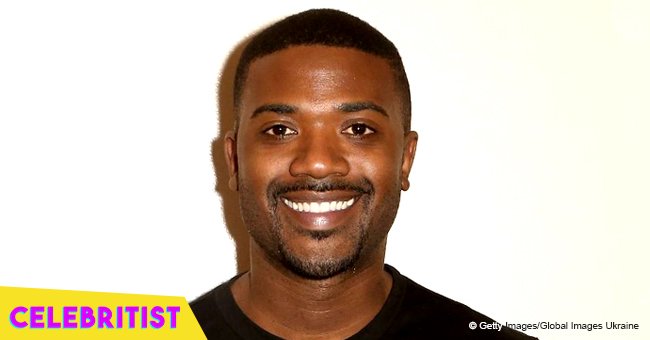 Ray J is in full daddy mode, feeding curly-haired baby daughter in new photo
Ray J is on "daddy-duty" after revealing he will be taking care of his daughter all by himself for three days to give his wife, Princess Love, some time to rest. The singer and reality star recently revealed he's making sure to build an empire to leave something behind for his daughter.
The Norwood family has been overjoyed after the birth of little Melody Love almost two months ago. The adorable tot has been taking front and center on her parent's Instagram accounts since she came into the world, and fans couldn't be happier about it.
The couple, who had an on and off relationship through their run on the reality show "Love & Hip Hop: Atlanta" a few years ago, have been sharing their journey through parenthood on social media, and just a few days ago, Ray J delighted his fans with an adorable Instagram video.
Holding his little daughter on his arms and talking directly to her, Ray J stated he would be taking care of her for the next three days because his mother had complained he wasn't doing much of the hard work, which includes changing nappies, feeding bottles and giving baths.
"Daddy loves you, daddy got you from here," the singer said before smooching his daughter in the video. "yall think I can handle it?? where tha milk??," he wrote in the caption, earning a hilarious response from his fans.
The majority pointed out that baby Melody didn't seem to like the idea of being under her dad's care. Instagram user @queen_of_tishland wrote "She looks unsure, Ray," and @sincereiam added "She looks terrified. I can guarantee you that her mom is going to step in. We become lioness and possessive over our babies and no one, not even the daddy can change a pamper or feed them milk like us moms. @princesslove how long did it last?"
Following up with his promise, Ray J has been sharing pics while on daddy duty, making sure to let his fans know he's got everything under control.
First, he shared a pic bottle-feeding Melody with a sweet look on his face, as he mentioned he's going for the "Daddy of the year" award on the caption of the photo.
He also shared a photo holding the sleeping girl while he spoke on the phone and mentioned that at her six weeks, Melody is already helping him run his company, Raycon.
Just a few weeks ago, Ray J revealed in an interview with Rolling Out that he's making sure to build an empire to leave something for his and Princess Love's kids in the future.
Raycon, a technology company that creates wireless earphones, speakers, smartwatches and even Scoot E-bikes, was conceived from Ray's love for video games and gadgets and is all about giving people the option to feel like they're in the future but at an affordable price.
"It was very important to me to create something that would create a legacy. I wanted to do something that had the ability to earn billions of dollars — like really had the ability to do that," he stated. "I think we're in the dinosaur ages there's so much more we can be doing to sell music, products, etc. build a technology component and integrate music and technology."
Despite his followers' doubts, Ray J seems to be doing excellent work as a dad, and he's not only living in the present but also thinking about the future of his daughter.
Please fill in your e-mail so we can share with you our top stories!