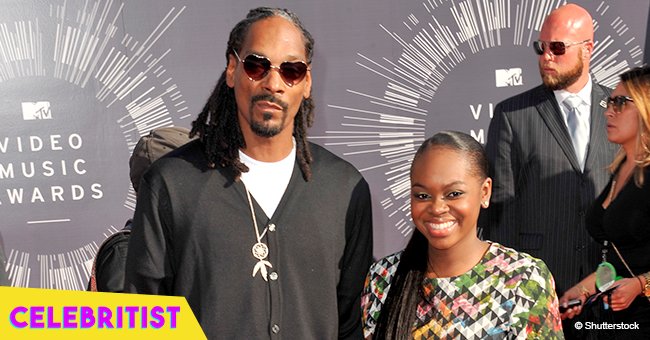 Snoop Dogg's teen daughter stops hearts in figure-hugging red dress, rocking a shaved head
Shante Broadus, best known as Snoop Dogg's wife, took to Instagram to share a photo of the couple's daughter as a way to honor the girl on her 19th birthday.
In the image, Cori is portrayed wearing a long-sleeved bright red dress while holding a black basketball a couple of steps away from the basket. One of the most striking aspects of the picture was the look on Cori's face.
For the caption, Shante wished Cori a happy 19th birthday and said that she loved her a lot. As soon as the proud mother uploaded that photo, her fans and followers took to the comment section to share their thoughts.
One of them was Instagram user @wildynamite, who couldn't believe Cori was 19 years old already and commented that times flies.
User @ziggie_lavar pointed out that Cori grew up very fast and that she was very beautiful. As Celebritist previously reported, Cori was diagnosed with Lupus when she was only six years old.
Lupus is an incurable disease that affects more than 1.5 million people in the world. Before being diagnosed, Snoop and Shante didn't know why there was a light spot on Cori's face.
After that, she started losing a significant amount of weight and hair. The couple took Cori to many different doctors and experts, but none of them could identify the problem.
Finally, the diagnosis came during the same period when Snoop and Shante were separated and in the middle of their divorce.
During an interview the rapper had with People, he revealed that Cori's Lupus battle was the reason the couple stayed together. They gave their relationship a second chance and, eventually, they renewed their vows in 2008.
Shante made it clear that if they hadn't got back together, they wouldn't have gone through all the challenging obstacles that life has put in their lives.
At the moment, Cori and her family are doing their best to fight Lupus, and the 19-year-old woman chose to shave her head to prevent hair fall due to the chronic disease.
Please fill in your e-mail so we can share with you our top stories!