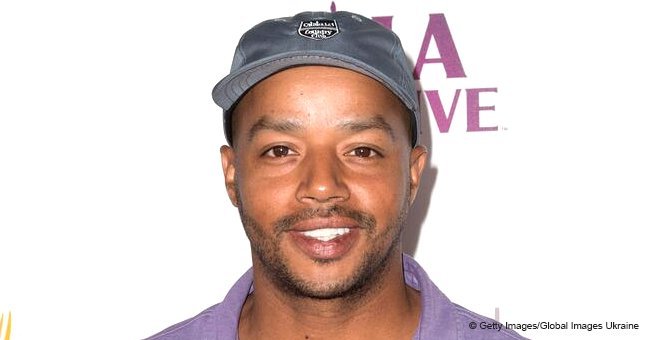 Donald Faison melts hearts with photo of biracial kids following ex-wife's passing

Actor and comedian Donald Faison, best known as Dr. Chris Turk in Scrubs, took to Instagram to share a photo of himself next to five of his six children on Father's Day.
In the image, the proud man was wearing green pants, a dark blue shirt, a blue and white sweater, and a dark cap. Donald was sitting next to five of his children, who were flashing their big smiles to the camera.
For the caption, the actor revealed that it had been a great day and he even wished his followers a happy Father's Day.
As soon as he uploaded that photo, his fans took to the comment section to praise him for such a wonderful family and to share their thoughts
One of them was Instagram user @manleyhenry, who pointed out that Donald was a great father 'for real' and finished by sending love and respect to him. User Clare Grant chimed in and said that Donald had a beautiful family
In the photo, the actor was portrayed next to four-year-old Rocco, two-year-old Frances (his two children from his present wife, Cacee Cobb) nineteen-year-old twins Dade and Kaya, and sixteen-year-old Kobe (his three children from his late wife, Lisa Askey).
The only person that was missing in the family pic is Donald's eldest son, twenty-year-old Sean (his child from a relationship with Audrey Ince). As Celebritist previously reported, Donald's first wife, Lisa, passed away in March 2017.
As a way to share his condolences, Donald took to Instagram and uploaded a throwback photo of his former wife holding on to their eldest son's hand. In the caption, the actor said that Lisa raised three beautiful children into 'fine adults' and that he would always be thankful for that.
Donald met Lisa in 1997 when she was still studying to be a nurse. They wed in 2001 and divorced after four years. Seven years later in 2012, Donald married Cacee who's also Jessica Simpson's best friend.
In an interview the actor had with WonderWall, he confessed that the best part of parenting was seeing his children become 'people.' He explained that when they are babies, they are like 'a glob of clay that pees and poops.' As time pass by, they start walking and talking and expressing themselves.
Finally, Donald revealed that Cacee was the perfect match for him because 'she is.' He added that it was impossible to describe it as she 'literally' is perfect for him. I'm a lucky man to have met her and to have her in my life. I try to tell her that every day. Sometimes I forget,' said the actor.
Please fill in your e-mail so we can share with you our top stories!