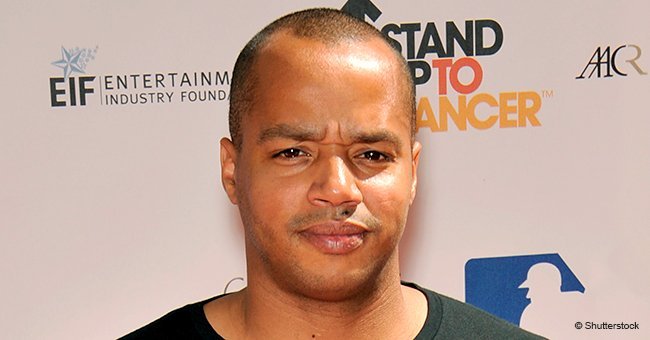 Donald Faison shares photo with biracial kids after death of ex-wife
Donald Faison is a father-of-six whose three children lost their mother last year. See how he celebrated Father's Day this year as he shares an adorable post chilling with his five kids.
It was a happy Father's Day for 'Scrubs' actor Donald Faison who spent the day with five of his six children. Three of them are relying on him entirely now after their mother passed away last year.
Donald shared a photo with his biracial children to commemorate the occasion that's closest to his heart. He revealed in his caption what a "great day" it was while sitting between his kids on a bench in the happy photo. The 44-year-old father was joined by his three children with his late first wife Lisa Askey, fraternal twins Dade and Kaya, 19, and Kobe, 16 as well as his two children with his present wife, Cacee Cobb, Rocco, 4 and Wilder Frances, 2. Not with them is the actor's eldest son Sean, 20 from a previous relationship with Audrey Ince.
It was probably a bittersweet moment for Donald's three children with Lisa whose sudden death due to unknown causes in March 2017 left them yearning for a mother. The comedian announced the news on Instagram with a throwback photo of his former wife holding on to their eldest son's tiny hand as a baby.
"My son Dade is very brave. Today he and his brother Kobe and sister Kaya lost their mother. She and I never really saw eye to eye but one thing we did share was our love for our children. RIP Lisa
"You raised three beautiful children into fine adults and I am forever grateful for that. May god bless your soul with light and love."
Donald met Lisa in 1997 when she was still studying to be a nurse. They wed in 2001 and divorced after four years. Seven years later in 2012, Donald married Cacee who's also Jessica Simpson's best friend.
In 2016, Donald opened up about being a father and revealed the best part about it was watching his kids grow.
"Seeing them become people. You know, when they're born they're pretty much a glob of clay that pees and poops and sleeps and cries and screams. And then, in time, they start forming. Their bones stiffen up and all of a sudden they're walking and you can't believe it. And then from walking they start expressing themselves. It's great to watch Rocco. It's great to watch Wilder grow because they're a lot like me and their mom which is cool to see."
Donald also gushed about finding his perfect match in Cacee.
"She's just everything that I ever wanted in a partner and a friend,"
He later explained,
"The reason why she is my perfect match is because she is. It's impossible to describe other than all of the the things people always says about their perfect match. She literally is perfect for me. I'm a lucky man to have met her and to have her in my life. I try to tell her that every day. Sometimes I forget."
Now that Donald has the responsibility of taking care of his three children with Lisa on his own, it's good that he can count on Cacee to help him with the task.
Please fill in your e-mail so we can share with you our top stories!