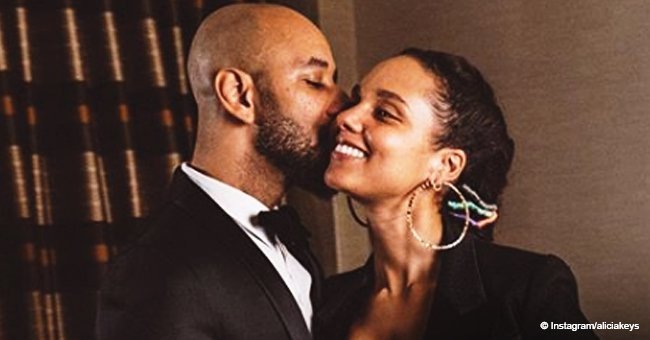 Alicia Keys and husband are all smiles in picture with all of his kids
Alicia Keys and her husband, DJ Swizz Beatz, have been married for seven years, and through all this time, the singer has become a second maternal figure for the DJ's kids from previous relationships. Keys recently spoke out at the "Families Belong Together" rally, and her speech brought tears to the audience.
The Grammy Award winner and Swizz, real name Kasseem Dean, married in 2010, and in the same year, they had their first son Egypt. Later, in 2014, Alicia gave birth to their second child, child, son Genesis Ali. The two kids are the youngest in the Dean family since the DJ has three other kids from previous relationships.
All the kids get along wonderfully thanks to the efforts made by their parents to lead a loving, blended family.
Alicia and Kassem have a beautiful relationship with the other moms, and they are often traveling around so that the kids can play with each other
A few weeks ago, the proud father took his family for a trip, but before boarding their plane, the whole "#TeamDean" took a beautiful picture, with Alicia included, that Dean shared on Instagram. All the kids were wearing casual clothes, comfy enough for a private flight, and their smiles speak more than words.
The power couple recently graced the cover of the "Cultured" magazine, paying homage to the Black Panther Party movement by recreating a photo shoot of activists Eldridge Cleaver and his ex-wife Kathleen Cleaver.
Speaking about their secret to a happy marriage, they agreed that communication is the key.
"We've been married seven years, and we don't fight, we don't raise our voices. It's all about communication. Where I'm weak, she's strong—and vice-versa. We always talk about how we don't own each other. She owns herself, I own myself, but we come together and have this amazing family. We established that early, both coming out of long relationships. We knew what had worked in our past relationships and what hadn't. We came to the table a little knowledgeable for this round."
And just like they use communication to make their marriage work, they apply the same when it comes to dealing with Swizz' baby mamas.
One of them, author Mashonda Tifrere, wrote a book about the experience of co-parenting with the stars, and she hopes to inspire people that have families under similar circumstances.
"With a dedicated chapter for fathers written by Swizz and a heartfelt foreword penned by Alicia, the three of us are raising our voices to help generations of families worldwide," said the author to People magazine.
Keys has shown her love for all her kids in several occasions. The most recent one was on Mother's Day when she posted a heartfelt message to all of them saying:
"I never thought love could be so deep, so wide, so open, so full, so elevating! Such a teacher! Thank you for teaching me, growing me, deepening me!! I'm Forever yours Egypt, Genesis, Kasseem, Nas, and Nicole."
As a fierce and protective mother, Alicia was one of the stars to join the "Families Belong Together" march a few weeks ago. The rally was held to protest against Trump's "zero-tolerance" immigration policy, under which immigrants and asylum seekers kids were separated from their parents.
The 37-years-old took the mic to read the letter of one of the desperate immigrant moms that were separated from her child, and later added her own speech which made tears run down the protesters' faces.
She said:
"My seven-year-old son is here with me today. His name is Egypt. And I couldn't even imagine not being able to find him. I couldn't even imagine being separated from him or scared about how he is being treated, so this is all of our fight because if it can happen to any child, it can happen to my child and your child and all of our children."
And continued:
"Our democracy is at stake. Our humanity is at stake. We are out here to save the soul of our nation. We need all the children reunited to their parents. We demand to end the zero humanity policy. We need to save the Supreme Court, and we need to vote because when we vote, we win."
Alicia later shared a sweet photo with her son on Instagram proving why the cause means so much to her, as she wrote in her caption:
"I couldn't imagine you ever being taken from me... #familesbelongtogether #MotherSon #Love #children #Priceless #nomuslimban #endzerotolerance #savethesupremecourt #VOTE."
Please fill in your e-mail so we can share with you our top stories!