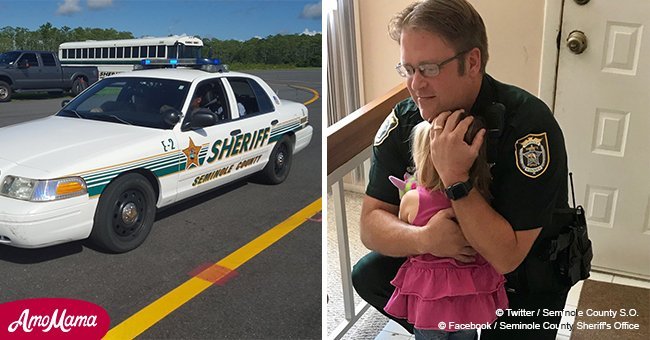 Police officer reunites with 3-year-old he saved after mother left child in hot car overnight
Seminole County Deputy Bill Dunn was "part of a miracle" when he saved an unresponsive three-year-old in the backseat of her mother's car.
It is not always possible for a first responder to follow up and check up on someone they helped previously. However, Deputy Bill Dunn got the rare opportunity a few days after he saved a little girl from a fatal situation.
The department shared on Twitter that the deputy reunited with the little girl on June 20, 2018. The photos from their reunion are heartwarming and have gone viral on social media. Read more on our Twitter account @amomama_usa.
The Seminole County Deputy responded to a call about a missing child in Sanford, Florida. He discovered an unresponsive girl in the backseat of her mother's car on June 17, 2018, according to Yahoo Lifestyle.
Thankfully, the door was not locked, and he was able to get to her immediately after he arrived at the scene.
He said:
"The rush of warm air practically smacked me in the face."
The car was hot, and the girl was "sweaty and limp." He did not know how long she had been in the vehicle. Dunn also saw that she was drifting in and out of consciousness.
He quickly took the little one to his cruiser and attempted to cool her off with the help of the air conditioner. He then rushed her to the nearest hospital and continued to stay with her instead of returning to his shift.
It was only after the doctors told him that the girl would survive that he left.
According to a press release by the police department, the girl's mother Casey Ryan Keller had left her in the vehicle overnight after she had returned from a trip to a liquor store.
A few days later, the girl's father called the police department to thank those involved with saving his daughter's life. He wanted the girl to meet the man who had rescued her.
When Dunn inquired if the two could reunite, he readily agreed. The deputy was happy that the story had a happy ending. He said meeting the little girl was the "best day" of his career and said that he "was fortunate enough to be part of a miracle."
Please fill in your e-mail so we can share with you our top stories!