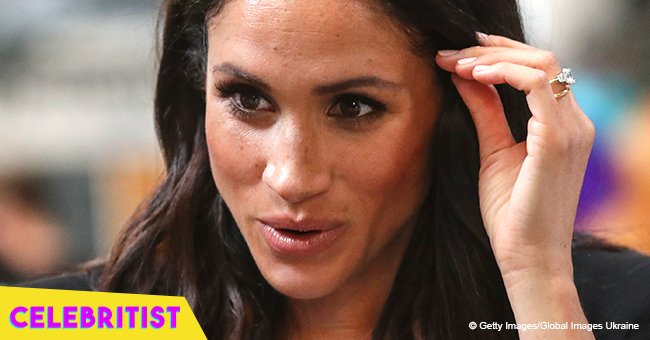 Meghan Markle spotted breaking royal protocol again at event with Queen
Did Meghan Markle break a Royal rule? People made a big fuss about the way she sat during the RAF centenary.
The "Duchess slant" has been used by the women in the Royal family for generations, from Kate, to Camilla, and even the Queen of England herself. However, it seems Meghan is more accustomed to her own style of seating, which is with her legs crossed.
The "Duchess of Sussex" was spotted crossing her legs yet again last Tuesday, where she joined her husband for the RAF centenary.
As she took her seat beside her husband at the Westminster Abbey, Meghan, who was dressed in a black Dior dress, slipped her right leg over her left during the service.
And while the Duchess had already been previously chastised for her favored style of seating, avid royal fans and watchers described it as "disrespectful". However, according to Daily Mail UK, experts say that she is simply choosing to sit in a way that is most comfortable with her. They even predicted that it could soon be called the "Sussex sit", pertaining to Meghan's royal title.
Daily Mail UK's etiquette expert Mr. William Hanson shared that while historically, the royal women would try to avoid crossing their legs in public, Meghan is technically not breaking any rules by doing so now.
"Although used to be the custom that ladies (royal or non royal) would never cross their legs, clearly the Duchess of Sussex is finding her own style and comfortable seating position by crossing her legs. Correctly, however, she is not letting there be too much of a gap between her ankles, which can look very ungainly when done by women or men."
Meghan previously faced criticism when she was seen crossing her legs at the Young Leaders Reception at Buckingham Palace last month. The etiquette faux pas irked royal fans, saying it could've been a way of Meghan being disrespectful to the queen, saying that royal ladies should always sit with their legs crossed at the ankles.
Indeed, it is not just Meghan who crosses her legs at the knees in the royal family, and the Queen herself was even pictured doing so in a BBC interview about her Coronation which aired earlier this year.
Check out the photos of the Duchess crossing her legs here.
Please fill in your e-mail so we can share with you our top stories!