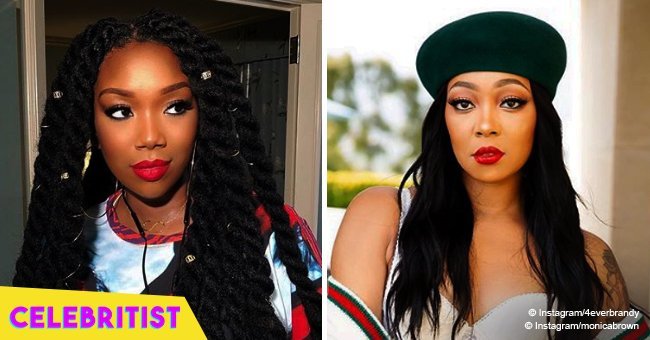 Monica Brown subtly responds to Brandy's 'shade' while flaunting her new look in pic
In the sneakiest way possible, Monica Brown responds to Brandy's "shade" by posting a photo of herself flaunting her new look and a meaningful caption to go with it.
Monica and Brandy have been in a feud for years, constantly finding ways to annoy one another. And while Monica has always taken the high road, Brandy continuously goes out of her way to throw jabs at her fellow singer in any way possible.
Just this week, Madamenoire reported that Brandy made a comment saying "the boy and the song is all mine", and a made whole lot of other verbal daggers presumably thrown at Brown.
Since then, Monica made sure to speak up without having to address her critic directly, and instead spoke about her character in the present, and her legacy in the future.
Posing in a black and gold printed tracksuit, fluffy Fendi slides, and a pair of pointed cat-eye shades, Monica confidently looks at a distance saying she is constantly working to improve herself for her husband and babies.
"I conduct myself in the manner I would like to be remembered!! The work I have to do within myself leaves no room to focus on anyone else... Always bettering me for my husband & babies."
Brandy has yet to make another comment about Monica's Instagram post, something that she has been accustomed to do through the years. Sometimes, fans wonder what it will take for Brandy to quit her shading and her insults, especially since it has always been one-sided beef between the two of them given that her arch-rival never actually responded to any of her hate directly.
Nonetheless, it is only a matter of time until the fans of these two singers hear some subtle shades being thrown between the two of them yet again.
Please fill in your e-mail so we can share with you our top stories!