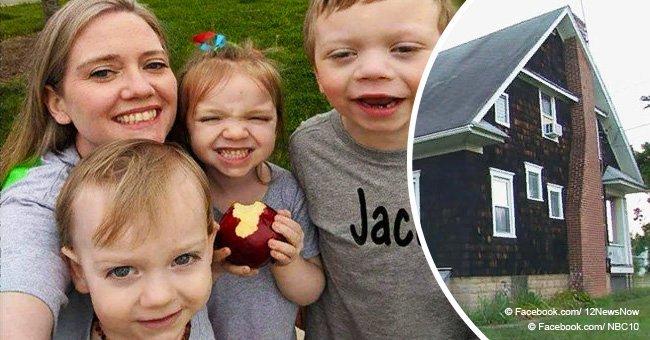 Husband fatally shot his wife and 3 children before turning the gun on himself

A Delaware murder-suicide leaves friends and neighbors in disbelieving shock
The community of Prices Corner, Delaware is in a state of shocked disbelief at the discovery of the tragic murder-suicide of the Edwards family, reported CBS News.
The alert was raised by an unidentified child who was supposed to sleep over at the house, and walked in and discovered the bodies,
At 7:00 pm on the 9th of July 2018, the Police found Julie Edwards and her three children dead from apparent gunshot wounds and Matthew Edwards dead of a self-inflicted gunshot wound.
Delaware State Police identified the couple as Matthew Edwards, 42, and his wife, Julie Edwards, 41. The children's names were not released but were described as a 4-year-old girl and two boys, 6 and 3, respectively.
"He seemed like an average guy. He would come outside with his kids and play"
Wilfredo Rivera, CBS News, 9th of July 2018.
The Delaware Division of Forensic Science examined the bodies and ruled their deaths as murder and suicide by gunshot.
Neighbor Wilfredo Rivera, 60, may have been the last person to see the family alive. He saw the father and children at home on Sunday.
Rivera said that the children were playing with scooters and Edwards was barbecuing and going in and out of the home. Edwards has mentioned to Rivera that he was having marital problems.
Read more about the Delaware murder-suicide investigation on our Twitter account @amomama_usa.
Another neighbor, Alisha Garvin, said that the couple had lived in the house for more than a decade. According to Garvin, Edwards had lost his job and taken a new one in Virginia, he said.
"He seemed like an average guy," she said. "He would come outside with his kids and play."
Garvin had heard the bang of explosions around noon on Monday, but thought it was children setting off late 4th of July firecrackers.
The community is stunned and grieving for the young family, wondering how someone 'just like us' could suddenly commit such a heinous act against his own wife and children.
Please fill in your e-mail so we can share with you our top stories!