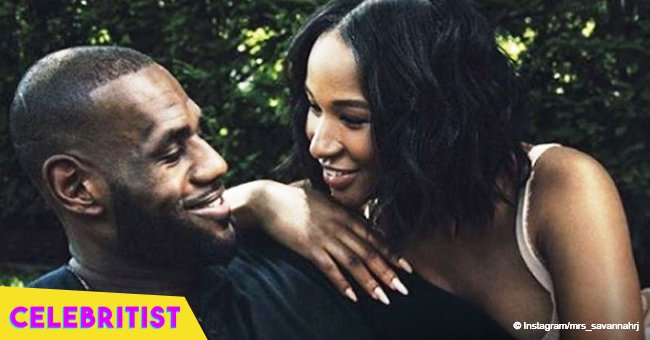 Lebron James' wife shares photo of husband 'sitting like a king' on a pink donut floatie

Lebron James' latest photo chilling out in a pool has prompted a wave of memes on social media. The curious snap posted by his wife comes in the heels of the announcement of his new four-year deal with the Los Angeles Lakers.
Fresh from the news of his transfer to the Los Angeles Lakers, Lebron James appears to be settling in the City of Angels quite nicely.
In a photo his wife Savannah Brinson recently shared, the former Cleveland Cavalier was deep in thought as he sat on a pink inflatable donut while lounging in a pool.
"Donut kill my vibe," Savannah captioned her husband's summer snap which immediately went viral and prompted a series of memes on Instagram.
"When you're still trying to figure out how JR didn't know the score"
"How tf they got boogie"
"I hate that my second toe is over my big toe"
"Kyrie still ain't call me back"
It's unclear what James was pondering on that sunny day but what's clear is that he's moving to Los Angeles to be a part of the Lakers next season.
Following his former team's loss against the Golden State Warriors, the 14-time NBA All-Star agreed to sign with the Lakers shifting the league's landscape next season. The announcement was made on July 2 via his agency, Klutch Sports Group which tweeted,
"Officially signed with the @Lakers @KingJames."
The photo accompanying the tweet showed a smiling James holding on to his contract while Lakers GM Rob Pelinka had his arms around him. The deal was reportedly a whopping $150 million for four years.
James has participated in the last eight NBA finals and won three of them. This new direction according to the basketball superstar was not about winning but about doing what he wants while securing his legacy. He says moving to Los Angeles would not only make his family comfortable but will allow him to expand his business interests as his career slows down. He's also challenged to revive the magic of the Lakers which dwindled in the final years of Kobe Bryant's career.
Please fill in your e-mail so we can share with you our top stories!