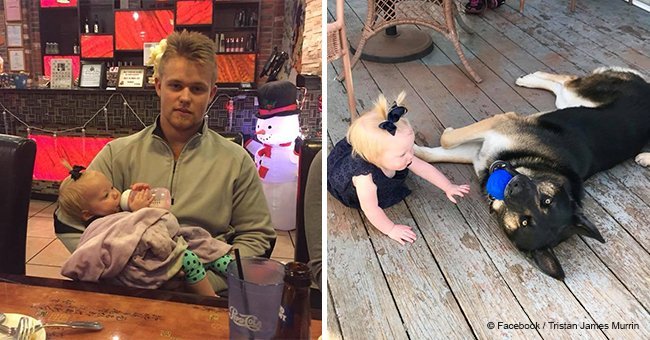 Family returns home to find walls and floors covered in blood after pet dog attacks intruder
Tristan James Murrin took to Facebook to share how his heroic German Shepherd attacked an intruder, who broke into his home when no one was around.
In short video clip he posted on social media, Murrin revealed the floor and walls of his house spluttered with blood following the attack from the family's loyal dog.
Showing the condition of the house and the stains of blood all over the place, Murrin said in the video, "Whoever came to my house, you deserve this [expletive]."
In the caption to the post, he wrote about how proud he was of his dog, Oden, who had protected his home and belongings.
Follow us on Twitter to learn more
'Such an amazing breed that's why everyone who doesn't have an actual dog should consider on adopting or buying a dog.' He further praised the dog in the caption.
Murrin told WRIC that they saw nothing at first when they arrived at the front door. Then he entered the house and saw the horrific incident ahead. The entire upstairs covered in blood.
The intruder broke in probably not knowing that the family dog was on guard that night. Thanks to Oden, the would-be-robber got away with nothing.
Murrin also expressed his surprise upon seeing all the blood because his dog had never shown signs of aggression before. He further explained how his dog likes to "play with kids" and even the entire community loves him for this.
Murrin expressed his happiness after reassuring about the dog's safety. He was also glad that nothing was stolen because his loyal dog stood his ground.
The would-be-robber might have lost a lot of blood, as shown by the spluttering of blood all over the place inside Murrin's house.
So far, no one has been arrested and the police authorities continue to suggest that the investigation was ongoing.
Please fill in your e-mail so we can share with you our top stories!