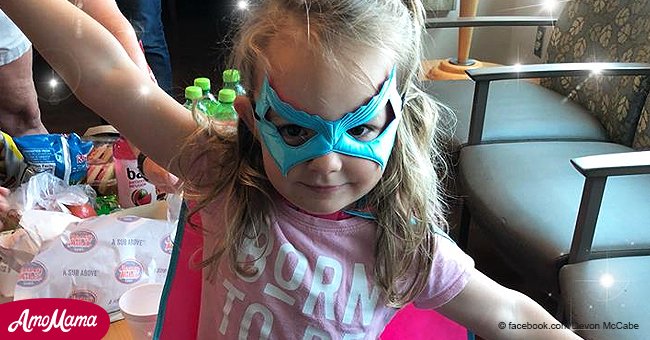 3-year-old girl saves father's life while he suffers a stroke

A 3-year-old used FaceTime to get her father help after he suffered a stroke last week.
Trevor McCabe, 27, was home alone with his 3-year-old daughter Molly on the 4th of July 2018 when he started to feel strange. He started hearing a loud humming noise and he felt like he was going to lose his balance.
Suddenly McCabe fell on the ground senseless, and that is when his tiny daughter saved his life, reported FoxNews.
Molly hadn't learned the alphabet yet, but she had watched her mom and dad call each other on FaceTime many times.
She accessed the FaceTime feature on her father's iPhone and called her mother, Devon. Devon, who is an ICU nurse, missed the first call. But when a second call came through she picked it up and saw her daughter in tears.
"I'm so proud of her, she without a doubt saved his life."
Devon McCabe, FoxNews., 4th of July 2018 .
Molly was crying and couldn't speak, but she turned the phone so that Devon could see her husband, lying unconscious on the floor. At first, Devon thought her husband had fainted, and called her neighbor, who rushed over to the house and called 911.
Read more inspiring stories on our Twitter account @amomama_usa.
McCabe's doctors diagnosed a stroke as a result of a blood clot in his basilar artery. The basilar artery carries the oxygenated blood to the brain, and the interruption of the blood flow through that artery can lead to severe brain damage or even death.
Even though medication dissolved the clot, McCabe's brain began to swell and he had to undergo emergency brain surgery and was initially placed on a ventilator.
McCabe still has a long road ahead of him, but the doctor's prognosis for a full recovery is very good.
Please fill in your e-mail so we can share with you our top stories!