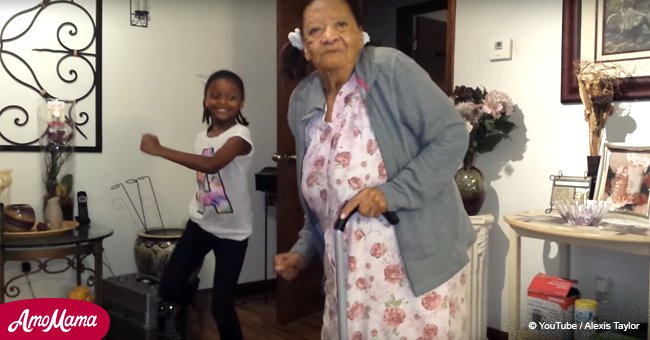 97-year-old granny steals the show after great-granddaughter challenges her to dance
Alaria, an eight-year-old girl, learned that age doesn't matter when one is still young at heart after watching her great-grandmother dance energetically.
The clip of the 97-year-old woman dancing to Fifth Harmony's I'm Worth It, has gone viral on YouTube after it was uploaded on June 29, 2015.
A young girl, Alexis Taylor of Huntsville, Alabama, had grown up watching her evergreen grandmother, who is very energetic and youthful even when she is celebrating her 100th birthday in 2018.
Read more on our Twitter account @amomama_usa.
Alexis addressed her grandmother as being "full of life" and a great inspiration for the whole family.
When her grandmother was 97, Alexis captured the joyful moment of her grandmother expressing her youthfulness, and the video became an astonishing sensation on social media.
The video captured Alexis' eight-year-old daughter, Alaria, dancing in the family living room to Fifth Harmony's *I'm Worth It.
As her grandmother was enjoying the dance, someone suggested her to "do her thang," to which her grandmother very energetically replied, "You want me to do my thang?"
Alexis' grandmother didn't wait for an affirmative answer; she had already begun shrugging her shoulder to the beat.
Alaria was thrilled to see her great-grandmother's moves. The show got the family emotional, as she had it in her even after so many years.
The whole family was cheering her and her moves, in response she gives her hip a big shake. Though she uses a cane to balance, she was very steady on her feet during her steps.
Alexis' video was a big hit and went viral on YouTube where the video had over 1.7 million views, while the number was more than three million on Facebook. Everyone agreed that it was one 'groovy granny!'
One user on Facebook wrote, 'What a blessing!! I want to get her age and still be able to dance." Another user commented that the video made him happy and that 'she is blessed, shows you how good God is.'
Please fill in your e-mail so we can share with you our top stories!