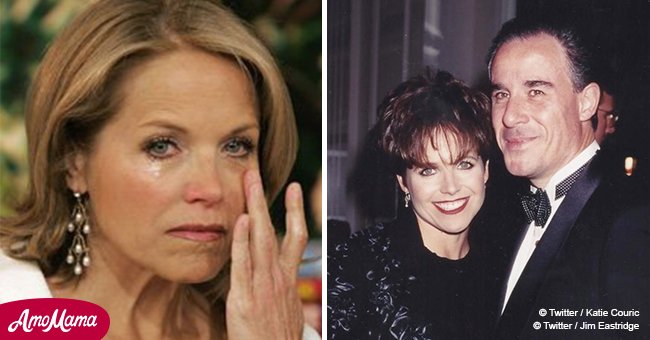 Katie Couric on finding love again after losing first husband to cancer
It has been two decades since Katie Couric lost her husband, Jay Monahan, to colon cancer, but was fortunate to find love again with John Molner.
Couric shared a photo of her husband holding one of their daughters on Instagram to mark the 20th anniversary of his death on January 24, 2018.
The country mourned the death of Jay Monahan along with his wife, Katie Couric. He passed away in 1998 after he was diagnosed with colon cancer.
Read more on our Twitter account @amomama_usa.
Couric said that the Thanksgiving of 1997 was the worst of her life because the doctors had diagnosed stage 4 colon cancer about eight months earlier. The family stood together with the intention of "fighting this out."
Unfortunately, it was not to be. Couric had 19 Thanksgivings and Christmases without her husband. The only refuge was a few hours of sleep but the first few seconds of wakefulness brought with them a familiar sense of dread.
The mother-of-two found love again, though she is not afraid to confess that she misses her first husband.
In an article for Time, she wrote, 'I've had 19 Thanksgivings and Christmases since he died. Many of them have been full of joy and laughter; the days, months and years of living made me forget when sleep provided the only refuge.'
Three years after she lost Jay, she lost her sister. But Couric has worked tirelessly to create awareness and fund research to avoid future Jay Monahans.
The TV host co-founded Stand Up 2 Cancer, the National Colorectal Cancer Research Alliance, and the Jay Monahan Center for Gastrointestinal Health.
Couric remarried Molner in 2014, whom she described as "a wonderful person." She told her new husband was warn, wise, and funny. Though he is different from her first husband, she thinks he would approve of Molner.
In fact, they would have been friends, according to her. She added that the greatest gift of her second husband is that he has allowed her to love both of them.
Please fill in your e-mail so we can share with you our top stories!