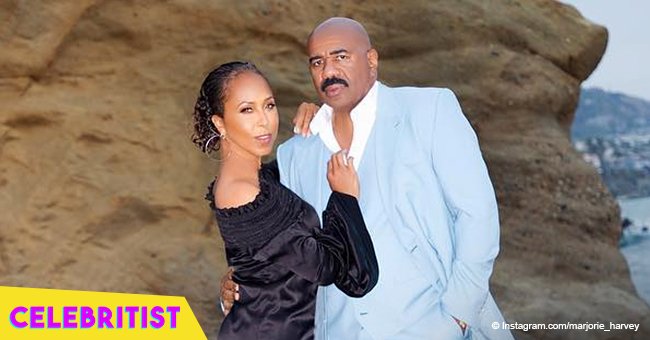 Steve and Marjorie Harvey look relaxed on their private yacht in picture from their holiday
The couple have come up with the perfect response to divorce rumors by going on a private vacation shortly after they celebrated their 11-year anniversary together.
Steve and Marjorie Harvey tied the knot in 2007, and now over a decade later the couple have been plagued by rumors that their relationship has hit a rough patch again, and that they're set for divorce.
But rather than entertain the media and gossiping fans, the couple decided to jet off on a private vacation, and have shared photos of their relaxing holiday together on their private yacht off the coast of the South of France.
Steve has taken to Instagram with photos, tagged in Cannes, of the couple looking relaxed and enjoying the beautiful scenery in the town.
In the first image, the couple could be seen sitting on a lounger on the yacht together, with Marjorie leaning on her husband's shoulder while he smoked a cigar.
Marjorie wore a black tank top and a pair of white shorts, while Steve wore a white t-shirt and a pair of red and white shorts. Both of them wore caps to shield their eyes from the fading sun.
In the background, the houses rising up the hillside and other luxury yachts in the harbor could be seen.
The second image was taken from behind them, and saw them looking out over the water, a number of other yachts, and a beautiful setting sun in an orange sky.
"What a gift to get some rest... if you wondering .....I ain't doing nothing," Steve captioned the lovely image.
Another image showed the couple actually on dry land, taking a break from their ocean getaway to explore the town instead. They looked relaxed and happy as they held onto one another just outside the La Guérite restaurant.
Marjorie added a white padded jacket, black sandals, and a pair of sunglasses to her look, while Steve wore a white button-down shirt and a fun pair of loose trousers with a blue and white floral pattern on it.
Please fill in your e-mail so we can share with you our top stories!