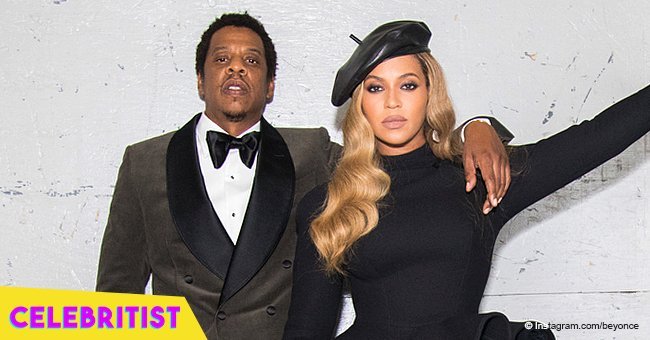 Beyoncé stuns in pearl-adorned bodysuit, posing with Jay-Z in white ensemble at Paris concert
The power couple is only one concert away from ending the European leg of their "On The Run II" tour, and they stunned in all white outfits in their Paris concert. Their show coincided with the World Cup final, but that only made the concert a double celebration for the French audience.
When they scheduled their Paris concert, Beyoncé and Jay Z didn't have a way of knowing France will be facing Croatia on the FIFA World Cup final on the same day. But thinking on the 60.000 fans that went to see them, the stars decided to delay their show and screen the game on the giant screens of their concert venue, the Stade de France.
With France winning the World Cup, the "On The Run II" show became a double celebration for the audience, who were excited about their country lifting the gold FIFA trophy and watching their favorite artists on stage.
Beyoncé and Jay Z, as usual, met up their audience expectations.
The couple came out on stage donning all-white outfits and looking like royalty with the powerful stance that only The Carters can pull off. Beyoncé looked stunning wearing a customized Balmain pearl studded body suit that hugged her curves and put her toned legs on display for her fans' delight.
The shining suit featured long layered frill sleeves and a pearl-adorned suspender belt. The 36-years-old singer completed the look with white ankle boots, and she let her newly dyed blonde locks flow down her back and shoulders as she put off a fierce performance.
Jay Z, on the other hand, looked like a boss wearing an all-white suit and shoes as he showed off a giant gold medallion to add some color to his outfit.
In a photo shared by Beyoncé's mom, Tina Lawson, the couple is holding hands while looking out to the crowd with their mics ready to put on their best show.
Tina has been traveling around Europe with her daughter and son-in-law along with the couples' kids, Blue Ivy, and twins Sir and Rumi.
On Paris, Lawson was joined by former first lady Michelle Obama, and they enjoyed the concert stage-side, dancing together and basking on The Carter's powerful performance.
Mrs. Lawson shared on Instagram a video recorded by a fan that shows her and Obama dancing to Jay-Z's performance, as she wrote in her caption: "We are rocking to Jay's song! Our beautiful first Lady so real! Gracious and amazing !! How many of you miss her?"
The "On the Run II" tour around Europe ends with a concert in Nice, France on Tuesday, and afterward, Beyoncé and Jay Z will fly back home to get ready for the American leg of the tour, which starts on July 25 in Cleveland, Ohio.
Please fill in your e-mail so we can share with you our top stories!