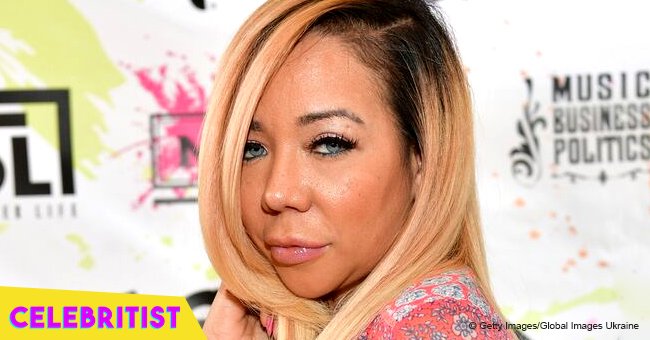 Tiny's daughter Heiress steals hearts while trying to vacuum the floor in recent video

Tiny Harris reveals her morning dose of happiness as she shares an adorable video of her 2-year-old perfecting a household chore. The singer who just turned 42 recently delighted in a shower of gifts from her family including a convertible from Heiress' father T.I.
Tiny Harris has so much love for her youngest daughter Heiress that she would often post sweet photos and videos of the two-year-old providing an almost daily dose of delight for her followers.
Her latest post featured her little girl contributing her share of housework as she operates a vacuum cleaner and tries to suck up little bits of food scattered on the floor. The video taken by Tiny's other daughter Zonnique featured the older sister's voice in the background egging her sibling not to miss a spot. The clip was just adorable as the tiny tot took her job seriously while listening to her sister's instructions.
Tiny revealed in her caption that the clip gave her a good laugh in the morning she posted it. She wrote,
"How did I miss this video!! Lmao this gave me a good laugh this morning. Big sister @zonniquejailee don't play! Got my baby really concentrating trying to clean lol #TwoOfMyFavoriteGirls #SisterLove"
Heiress' vacuum cleaning video is one of many videos and snaps her mother has shared of her. Just hours later, Tiny showcased the toddler's singing talent as she sang 'Happy Birthday' to her mom. She was joined by another girl named Caitlin as she belted out the birthday tune. Tiny just turned 42 on July 14 and along with her daughter's birthday song, she revealed in her caption the shower of gifts she received that day including the convertible her husband T.I. gave her, five pairs of sneakers from her oldest son, and a Fendi from Zonnique.
Tiny's marriage to Heiress' father T.I. was recently rocked with controversy when a video surfaced showing the rapper slapping the butt of another woman and alluding to an affair with her. It's unclear where the couple's on-and-off marriage currently stands but with his latest grand gesture of an extravagant birthday gift, there may still be hope for forgiveness and reconciliation.
Please fill in your e-mail so we can share with you our top stories!