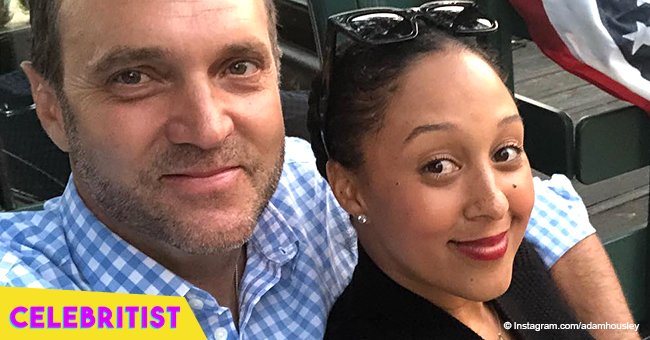 Tamera Mowry's son Aden does the family's yard work in recent video shared by dad
Adam Housley melted fans' hearts with a video he shared to his Instagram account of his eldest son, Aden, working on the family's yard. Housley praised the five-years-old on the clip, and fans think Adam's fatherhood skills are amazing.
Tamera Mowry eldest son, Aden, is his father's vivid image, and he's already showing a good disposition to help with the hard work in their family home.
Adam Housley, a Fox news correspondent, shared a video on Instagram of the boy working on their yard that has fans praising his parenting skills.
In the clip, edited by the loving father, little Aden is seen picking up pieces of grass from the yard with a small rake and putting it on the back of his toy tractor. Meanwhile, little Ariah, Adam and Tamera's youngest daughter, can be heard in the background calling "daddy, daddy" before Adam asks her if she wants to help as well.
Aden, noticing that his father is busy recording him, doesn't hesitate to call him out by saying "daddy, you're not helping me," which prompts Housley to say "I'm gonna help you right now," but instead, he keeps recording his child.
Then, the adorable kid rides his tractor like a professional as he backs it up to keep on putting the pieces of grass on its trolley. The proud dad explained that he's trying to get Aden to get used to hard work with tasks in the exterior and revealed that's how he learned in his childhood.
"What better way to be involved with your kids than to work with them and teach them outside. Some of my earliest memories are working with my parents and grandparents in their yards. Aden also uses a @johndeere tractor given to him for his bday last year. #thehousleys #organicyard #workwithyourkidsbyyourside #daddysboyrolle."
Fans immediately took to his comment section to praise Aden and Adam's parenting tips.
Instagram user @stephonjudah wrote:
"Aden legit just made me LOL ...he's so clever!! I love your family. You're giving them the best outdoors experience, great job!"
@misshelen37 said:
"Too few people teach their children manual labor any more!!! Good for you!!!!!"
and @beautifullifeofaaliyah added,
"you're cute little helper awww @adamhousley teach them young so them will know as they get older."
We're glad to see little Aden enjoying a good time with his father by learning how to take care of their home, and we're sure Tamera is as proud as her husband.
Please fill in your e-mail so we can share with you our top stories!