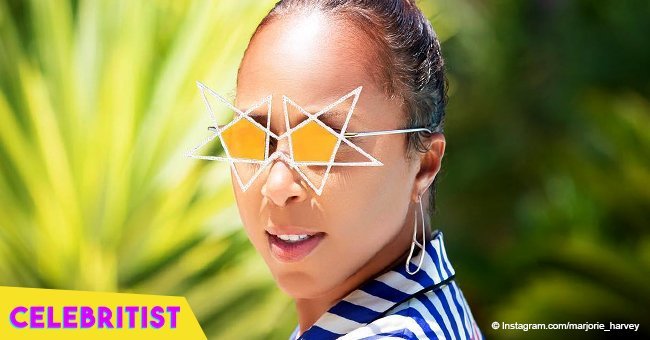 Marjorie Harvey shares picture together with her parents on their 57th anniversary

Marjorie Harvey paid tribute to her makers just yesterday after they celebrated their 57th anniversary together. This follows the heavy criticism that Marjorie received for allegedly "not buying her parents a nicer house".
Making sure to celebrate her parents' 57th anniversary, Marjorie took to Instagram to showcase their love. In the photo she posted, she sported a pair of black and white silk pajamas and an eye mask, while leaning towards her father and mother, who wore their usual casual clothing.
Back in May, Mrs. Harvey was slammed after she posted photos of her and her husband Steve visiting her parents home. Fans and critics alike were arguing on social media about privilege, and what children "owe" their parents. After visiting their home in Tennessee, she said: "It feels good to be back in Memphis at my parents".
In the comment section of her photo, people called out her extravagance, characterized by her fur-lined Gucci mules, which are estimated to be more than 900 dollars a pair. It seemed like such a juxtaposition with her parents' house, which was simple and modest compared to the Harveys' luxurious Los Angeles mansion.
Marjorie's husband Steve is known for hosting "Family Feud", but he is also an author, a comedian, and a host, who has a total net worth of approximately $120 million. Likewise, she also brings in some cash through her blog which features high-end fashion houses called "Lady Loves Couture". In her blog, she often boasts of her front row seats at runway shows around the world.
Despite the criticism by fans, the couple remains unfazed, and she continues to have a strong relationship with her parents. She decided to reply to one particular comment, to clear the air about how she treats her parents.
"I started to just block you for the ignorant comment but I decided to respond. First off I take excellent care of my parents and would buy them any house of their dreams. However, my father is proud and absolutely loves the house that he built for his family and could not dream of living anywhere else. I would never insult my parents by telling them it's not good enough. It's the house that my brother and I were raised. Will always be a part of who I am. I'm grateful and proud of it. God blessed you."
In 2016, Steve shared with PEOPLE that he and his wife are one happy couple, and life could not get any better than it is.
"I messed up so many times in my life. She made all the difference. When you're happy at home, you can make a lot of things happen."
Please fill in your e-mail so we can share with you our top stories!