Meghan Markle's half-sister attacks her saying it will be the Duchess' fault if their father dies
Samantha Markle is not happy with how things have turned out to her family after Meghan got married to Prince Harry. The woman is allegedly worried about her father, and she's warning Meghan that, if their father dies, it will be her responsibility.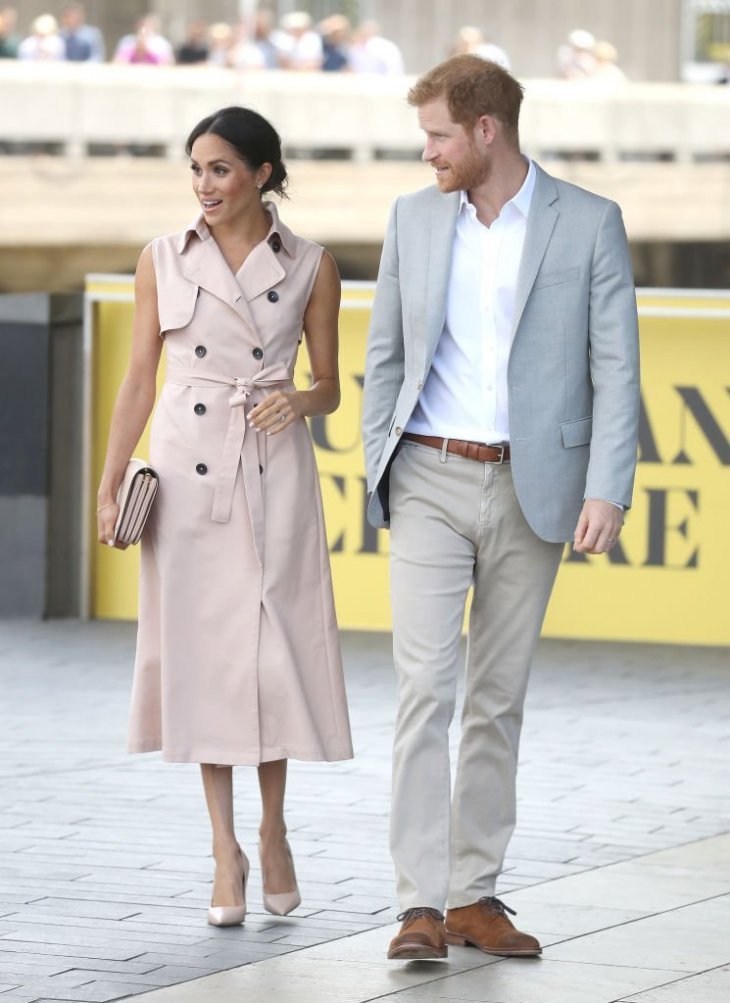 Meghan Markle's father and half-sister have earned the attention of the media over the last months for their embarrassing and erratic behavior. Thomas Markle admitted he stated paparazzi pictures while exercising and getting fitted for a suit to demolish the idea the media had of him being a "recluse" at his Mexico home.
Samantha, on the other hand, has said very hateful things about her youngest half-sister, and she's even writing a book about "living under the shadow of the Duchess." She has spoken to several news outlets attacking Meghan and denying she has earned some profit from doing so.
On an interview with Good Morning Britain a few days before the royal wedding, Piers Morgan lashed out at the woman, calling her "the biggest media vulture" for "trading on her very tenuous connection with Meghan Markle."
Now, after Meghan was seen on royal duties with her husband while attending a London exhibition about Nelson Mandela's life, Samantha went on another rant on her private Twitter account, calling out the Duchess of Sussex for not caring about their father and calling the royal family an "embarrassment" for being so cold towards Thomas.
"'How about you pay tribute to your own father?! Enough is enough. Act like a humanitarian, act like a woman!" she wrote, adding:
"If our father dies, it's on you Meg!."
Samantha also lashed out to the Royals, who have chosen to remain quiet despite the constant attacks they're getting from the Markle family, as is a tradition for the family to ignore the nonsense. The mother of three wrote:
"My father is not an embarassmnt for loving his daughter! The Royals are an embarrassment for being so cold. You should be ashamed of yourselves @Kensington Royal"
And added:
"Glad you have so much time to gallivant around paying tribute to others while ignoring your own father! How cold can you be and look in the mirror? Harry? I guess I was right."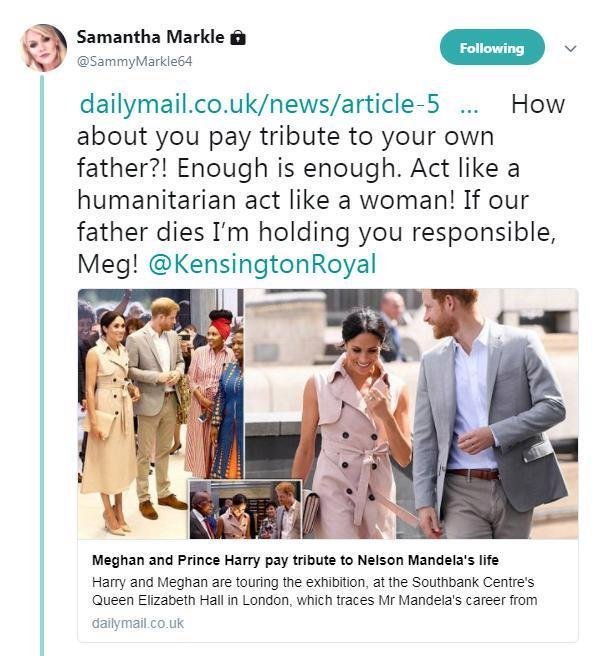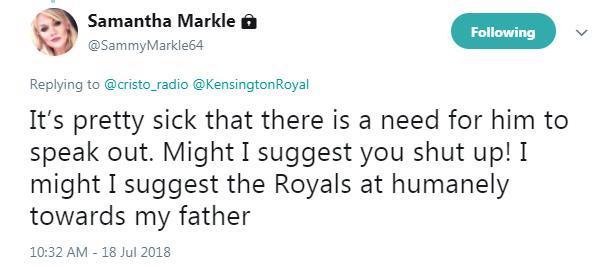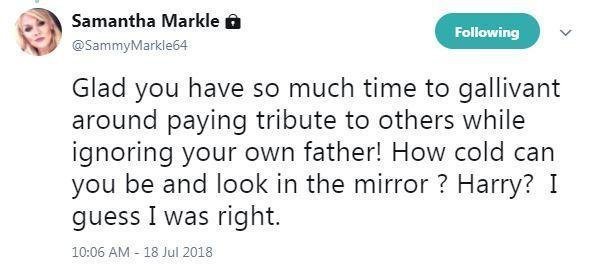 Samantha's rant comes a few days after Thomas Markle offered a video interview to the British paper The Sun. The man took the time to send a message to his daughter and the Prince, expressing he's sorry about everything that went wrong and stating he just wants to have a healthy father-daughter relationship with Meghan like before.
He said:
"My message [to her] would be, I love you, I miss you, I'm sorry for anything that went wrong...and I want to be her [future] child's grandfather and I want to be near them. I want to be a part of their life. I'd like to put our differences behind us and get together. I miss you very much."
He also stated that he would keep going to press if he doesn't get an answer from his daughter or the royal family.
"I was silent for a full year and the press beat me up every day saying I was a hermit hiding in Mexico, so I gave my story. Apparently, that interview put the Royal Family in their silence mode... so, I gave another interview to break the silence. All they have to do is speak to me," he said.