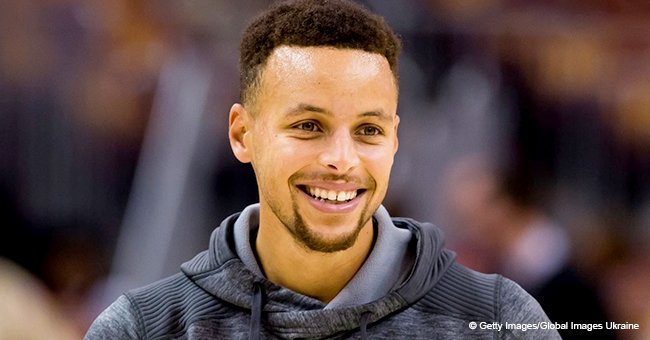 Steph Curry warms hearts with photo of newborn son wrapped in a striped blanket
The Golden State Warriors superstar welcomed his third child, a boy, with wife Ayesha Curry two weeks ago, and they're currently in cloud nine. The couple waited until the birth of the baby to know his gender, and Steph is clearly happy about having another male in the family now.
Ayesha Curry announced her third pregnancy back in February through an Instagram post where she was wearing a t-shirt that read "Preggers," as she mentioned she was feeling "very blessed and very sick."
The 29-years-old famous chef shared her pregnancy struggles with followers on social media, and she and her husband decided to keep the gender of their baby as a surprise. The couple revealed on "The Ellen DeGeneres Show" that the results were on Ayesha's phone, but they were determined not to look at them
For Stephen's joy, the baby turned out to be a boy, and even though he came earlier than the couple expected, according to Ayesha, they couldn't be happier about having a little man in the family.
Ayesha announced the birth of her baby with an adorable black and white photo of the couple's daughters, Riley, and Ryan, holding their newborn baby brother. And she wrote in her caption:
"My heart is FULL. God has been too good to us. Our beautiful baby boy Canon W.Jack Curry 7/2/2018. He joined us earlier than we thought and we couldn't be more excited and grateful. Family of 5! @stephencurry30 #mynewman [photo] by this mama of 3!"
Stephen also shared how happy he is with his son by sharing an adorable photo on Instagram of little Canon wrapped around a stripped blanket while being held in someone's arms. The 30-years-old NBA star wrote in his caption:
"On this journey, on this quest... protect me... I'm bless! Canon W. Jack Curry."
On July 5, Ayesha posted on Instagram an adorable photo holding her newborn in her arms while wearing a Balenciaga black t-shirt and looking intently at the baby, as she explained that the camera caught an intimate mother-son moment.
"Pure bliss. Rare photo of me and my new man sharing an intimate moment. I'm so in love. #isthisreallife #pinchmenow."
Now that Stephen will count with another boy in the Curry household, the basketball player must be excited about the prospect of hanging out with the boy and passing down to him some of his knowledge in sports.
In fact, Ayesha recently shared a photo of Stephen and Canon enjoying a golf tournament on TV while resting together on a sofa.
"The two men in my life enjoying a little Golf Channel. Swoon. I know @stephencurry30 can't wait to get this little guy out on the course. UNTIL THEN... we wish you good luck this weekend in Tahoe dada!!! Hit em straight. "Get in the hole!" #CanonCurry"
Even though most fans are assuming Stephen will have his son follow his steps into the basketball court just like he did with his father, he explained on Ellen's show that he and Ayesha are pretty flexible and want to introduce their kids to several activities and see what they stick to.
"We're the type of parents that we're going to try to expose them to as much as we can and see what they take to, what they're passionate about and whatnot."
We're glad to see Stephen and Ayesha enjoying their baby boy, and we can't wait for more adorable pictures of little Canon.
Please fill in your e-mail so we can share with you our top stories!