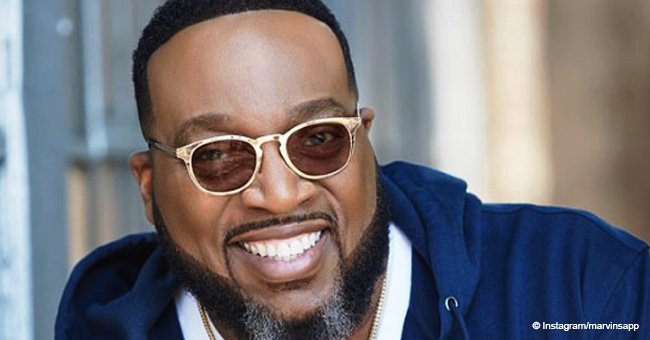 Gospel singer Marvin Sapp's mom is 79 & stunning in yellow dress matched with white necklace in pic
Marvin Sapp takes a moment to pay tribute to his mother whose strong nature, he admits, steered him out of trouble.
Marvin Sapp is a single father who's had to raise his three children on his own after the death of his wife in 2010. And while he's at it, it's possible he's taking some pointers on parenting from his mother who's now 79 years old and according to Marvin, raised four felony-free boys.
This Mother's Day, the gospel singer took a moment to give importance to his mother Lodena Sapp Holyfield by sharing a photo of the two of them. Lodena looked young and lovely in a yellow dress with strings of pearls around her neck as she stood alongside her son who looked dapper in a grey long-sleeved shirt and a cap.
"Happy Mother's Day to my 79yr old mom Lodena Sapp Holyfield," Marvin wrote, before adding the appropriate hashtags for his mother.
"#LoveMeSomeHer #AmazingCook#Raise4FelonyFreeBoys lol"
It's not surprising Marvin and his siblings managed to stay out of trouble as his last hashtag reveals. In 2017, he admitted his mother was the "enforcer" of the house and their neighborhood.
"There were guys down the street from us that were pimps. They would beat women, and my mother would go across the street with her broom and terry cloth robe, cigarette hanging out her mouth, big ol' rollers ... we were so embarrassed. It was the funniest thing on the planet. She would cuss them out, like, 'You ain't whipping hos in front of my house!' They would be like, 'We're sorry, Mrs. Sapp!'"
Lodena and Marvin's father divorced when he was only 9 years old, and Marvin confessed he went through a rebellious phase after. He got heavy on hard drugs, alcohol, and marijuana. He also had epilepsy, but eventually decided to skip the medicines doctors prescribed him and resorted to prayer instead. Miraculously, his prayers worked, and he's never had a seizure in 30 years.
Marvin's wife MaLinda was his best friend. They were schoolmates since grade school who never went on a date. But she was the only person Marvin ever trusted that even after they married, she became his manager in the music business while she worked as a college professor
Marvin attributes his biggest hit, 'Never Would Have Made It' to his wife who insisted he record the song which was only conceived when he mouthed the lyrics about his father during a praise and worship session a week after his father's burial. The song eventually reigned in the number one spot for 47 straight weeks and is the longest-running number one single in the history of music across all genres.
Today, Marvin takes care of his three children alone after MaLinda succumbed to colon cancer eight years ago. He raises his two daughters, MiKaila, 19, and Madisson, 17, and son Marvin Jr., 22 while steering his career as a pastor, artist, and entrepreneur.
In November, Marvin admitted he's ready to find love again now that his kids all grown up. He doesn't expect to be alone so he says, one day, "I'll find a boo."
Please fill in your e-mail so we can share with you our top stories!