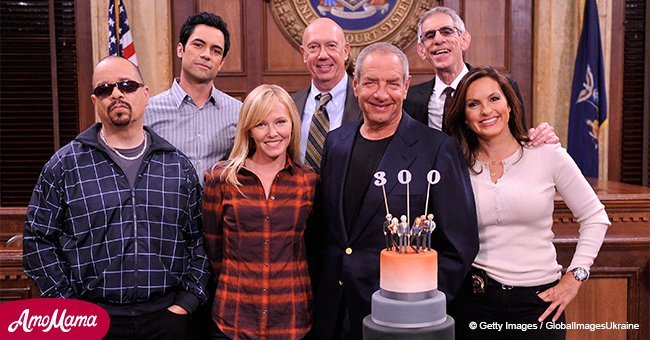 Mariska Hargitay teases season 20 of 'Law and Order' in brand new pic
Actress Mariska Hargitay shared an exclusive teaser for the Law & Order: Special Victims Unit fans by posting a couple of snapshots on Twitter as the show prepares for its 20th season.
Hargitay appeared to be in high spirits as seen on the pictures she shared on social media, revealing to the fans that the cast just had their first table read for the new season. Hargitay also shared a selfie with Dick Wolf, who is a legend in the industry and the show's series creator.
The actress plays the lead on the series as Olivia Benson and has been on the show since its first season.
Hargitay shared to her followers through a series of hashtags on the caption that the production of the season premiere of the show has officially begun.
Follow us on Twitter at AmoMama USA for more details about the NBC show.
Many fans expressed their excitement and eagerness to find out what will happen in the new season through their comments on Hargitay's tweet.
Previously, Hargitay already revealed that she had no plans of leaving the NBC series.
Speaking at a Paley Center panel in June 2018, Hargitay recalled her conversation with the former showrunner, Warren Leight. She said they were planning to leave the show before the 17th season kicked in because she said they were both exhausted.
Although, when season 17 came, Hargitay said that they "killed" it. Although the actress admitted that the 18th season was not a very good year for the show, she was confident about season 19.
Hargitay complimented the new showrunner, Michael Chernuchin, for the great job he has done for every single episode.
The actress said that Chernuchin was a genius and has been very attentive of what she had to say. Hargitay shared Chernuchin's talent and leadership had motivated her to stay on the show. She revealed that she doesn't plan on leaving anytime soon.
"I said, 'You keep writing like this, I'll stay for 25 years.' Why would I leave? I'm so grateful," said Hargitay.
It seems as though NBC felt the same for the actress since NBC Entertainment President Robert Greenblatt expressed that they plan to keep the show on-air as long as Hargitay continues to stay.
A two-hour season premiere will be shown on September 27th at 9 p.m. ET. Afterward, the series will be back on its regular timeslot on October 4th at 10 p.m. ET with all-new episodes.
Please fill in your e-mail so we can share with you our top stories!