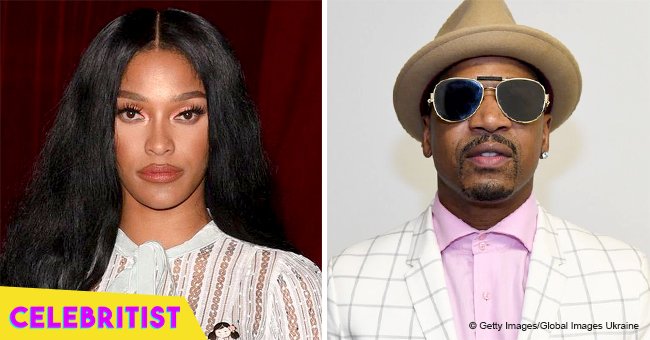 Joseline Hernandez reacts to Stevie J & Faith Evans' secret marriage by exposing his DMs

Hours after Stevie J and Faith Evans posted tweets suggesting they secretly got married, Joseline Hernandez, Stevie's previous partner, took to social media to share her thoughts.
The Instagram account of The Shade Room uploaded a photo that Joseline shared when she learned about Stevie and Faith's alleged marriage. It was a screen capture of a conversation that Joseline had with Stevie in which he asked her to marry him.
Joseline told him that she was trying to marry someone else and that she tried to have a good relationship with Stevie, but it just couldn't be possible. The man replied by saying that he loved her.
One of the most impressive aspects of the post is that the messages were dated June 17, only one month before Stevie and Faith reportedly tied the knot.
For the caption of the deleted post, Joseline wrote 'Happy honeymoon,' referring to Stevie and Faith's alleged marriage.
Apart from that, Joseline took to Twitter to share the following message: 'When they come for you always go to them. Plus pay me my child support bum.'
Joseline's posts were uploaded after Stevie tweeted: 'I love you Faith Renee Jordan,' adding his last name to Faith's name. Minutes after that, Faith, who was married to the late rapper Notorious B.I.G, replied to that tweeting: 'I love you back Steven Aaron Jordan.'
TMZ revealed that Faith and Stevie allegedly got the marriage license in Clark County, Las Vegas, on July 17 and that they exchanged their vows in their hotel room.
It would be Stevie's first marriage and Faith's third, who not only was married to Biggie Smalls but also to Todd Russaw.
The tough custody battle Joseline and Stevie had over their child Bonnie ended, and the co-parents agreed that the father would pay $1,000 per month in child support.
Apart from that, they have joint custody, but neither of them is allowed to have any lovers stay over while the child is with them, reported Celebrity Insider.
Please fill in your e-mail so we can share with you our top stories!