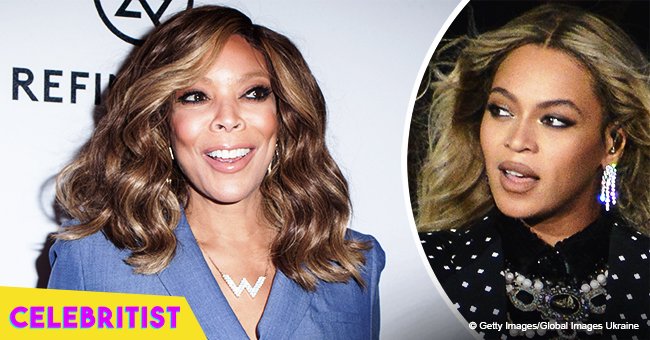 Wendy Williams convinced Beyoncé is pregnant with 4th child after recent videos from tour
Wendy Williams is more than certain Beyonce is pregnant again based on a video that's already gone viral. She also has another logical explanation on why the songstress is possibly pregnant with baby number 4, and it has something to do with her affinity to that number.
Wendy Williams is feeling the vibe that Beyonce is pregnant with baby number four, and there's a video that's alluding to it.
On her recent show, the 54-year-old talk show host exclaimed, "Yup, she's pregnant," as she and the singer's fans are convinced the songstress is appearing "fuller" performing in her 'On The Run II Tour' with her husband Jay-Z.
Wendy's interest in Beyonce's alleged delicate condition was brought about by a video of the Queen Bee which seemed to suggest it. In the 'Hot Topic' segment of her show on Wednesday after viewing the clip, Wendy told her audience,
"I believe Beyonce is pregnant. Congratulations!"
Fans of the singer are excited at the prospect of another baby for the Carters who already share Blue Ivy, 6, and their twins Rumi and Sir, 1. The clip that has everyone suspicious has gone viral with many already assuming Beyonce is with child even with lack of confirmation or an announcement.
Here's that controversial footage that's making waves on the internet.
And here's another video that's gone viral solidifying rumors of a baby on the way.
Meanwhile, Wendy also took the opportunity to take a jab at Kim Kardashian after revealing her suspicions regarding Beyonce's pregnancy. She challenged the reality star to keep up with Bey.
"What're ya going to do now, Kim? Kim has 3 kids, just saying"
There's also a logical explanation why Wendy thinks there's a fourth child on the way for the singing duo. She pointed out that the couple has a thing for the number 4. Beyonce, Jay-Z and Beyonce's mother were all born on the 4th. The couple were also married on 4/4 in 2008. Their daughter Blue's second name, Ivy, carries the roman numeral 'IV' which translates to the number 4. And it's probably not coincidental that Jay-Z's most recent album is also titled '4:44.' It does make a lot of sense.
Please fill in your e-mail so we can share with you our top stories!