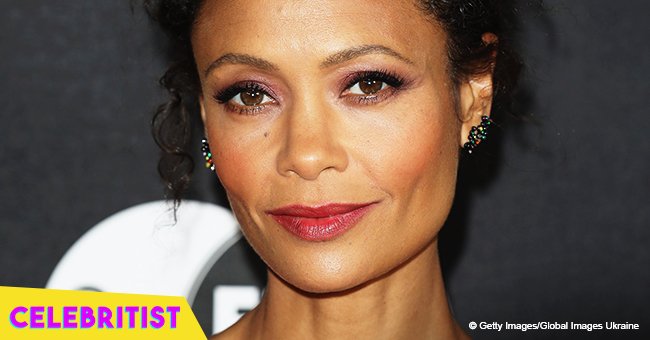 Thandie Newton shares sweet pic with her princess mother in floral-print dress
The actress made an apearance at the 2018 installment of the oldest tennis tournament in the world, and took her mother with her for the occasion.
Thandie Newton, who is known for her roles in Mission Impossible 2, Crash, and Beloved, took some time off from her busy schedule to enjoy the ladies finals at Wimbledon with her mother, Nyasha, who is a princess of the Shona tribe in Zimbabwe.
Newton took to her Instagram account to share a photo of the two of them at the prestigious tennis tournament, showing the mother-daughter duo with center court behind them.
"In the Royal Box with Mum #Wimbledon Met #BillieJeanKing #bucketlist About to watch Women's Final #SerenaWilliams xx," Newton captioned the shot.
Both women had opted for black floral print dresses, with Newton's featuring white and pale yellow flowers, while Nyasha's had pink, red, and mustard yellow flowers. Nyasha also added a cream-colored blazer to her look.
Newton had her braids piled up in a bin on top of her head, and carried a purple clutch handbag over her shoulder. Her mother had a purple flower pinned to her button-up jacket.
Plenty of Newton's fans took to the comments section to gush over how beautiful the pair looked.
Another photo Newton shared of the day showed the mother-daughter duo close-up in a selfie. The closer image showed that while Newton had worn a more neutral dress, she had paired it with dark pink lipstick and a soft pink eyeshadow.
Both women also had on a pair of gold dangling earrings.
"With my sweet Mama #Wimbledon2018 #SerenaWilliams was magnificent as always, and spoke so beautifully afterwards about being a champion for Mothers everywhere xx lovely rapport between her and winner #AngeliqueKerber," Newton wrote.
Growing up mixed race with a white father, Newton faced plenty of bigotry in Penzance, a small Cornish town in England. She and her brother, Jamie, were the only black children around.
"There were the usual cruel names: big ears or big nose. And none of the boys wanted to go out with me. I don't remember any overt racism, but my mum and I have talked about this and I now know my parents kept us safe from a lot of stuff," Newton told Daily Mail of her childhood experiences.
Throughout her childhood, Newton's family regularly made visits to Zimbabwe, but there she found she was also "other" to everyone else.
"On one trip, when I was seven, this Zimbabwean boy said to me, 'Go back to England where you belong. You're white.' I remember having this complete identity crisis," Newton recalled. "I thought, 'Where am I supposed to be?' I'm too black for England; I'm too white here. What I started to think at that young age was, 'I'm the mistake that can't be provided for.'"
But while many may be put down by the comments she faced in her youth, Newton used it to fuel her drive to become a successful actress.
By getting involved in the entertainment industry, she knew she would have a platform from which to address the issues of race and ethnicity.
She is not the only biracial actress to have done so either, with the likes of Halle Berry and Paula Patton also speaking out about similar topics in their backgrounds since becoming famous.
Please fill in your e-mail so we can share with you our top stories!