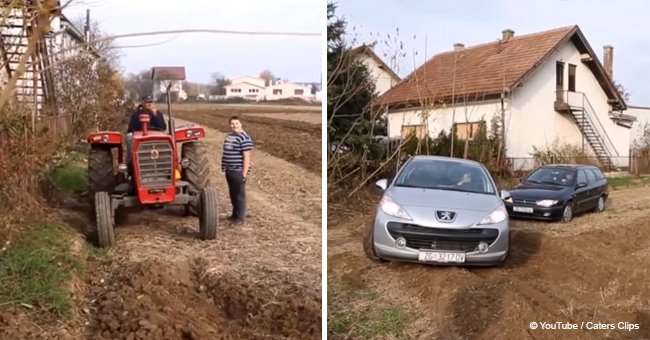 Farmer tired of people parking cars on his land ploughs field to block them
A farmer was at his wits' end when market-goers began using his open property as a parking space. He plotted his revenge and got his way in the end.
Davao Bedekovic from Zagreb, Croatia had an open piece of land close to a busy road and a shopping center. Shoppers would park on his property because it saved them time and parking fees.
Bedekovic undoubtedly weighed up his options. If he damaged the vehicles in any way, he could end up with a few lawsuits against him. Read more on our Twitter, @amomama_usa.
Talking and fighting wouldn't have helped either, and most mall-goers would simply ignore him and park there again when they returned at a later time.
Instead, Bedekovic put his tractor to good use. As can be seen from this short video clip uploaded to YouTube, he found the perfect solution to his problem.
The clip has already received more than 750,000 views and 1,100 since being uploaded by Caters Clips back in November 2015.
The sly farmer plowed trenches all his property, something he was well within his rights to do. The shoppers, however, were no unable to maneuver their cars off the field.
One angry motorist even called the authorities but they informed the shoppers that Bedekovic had done nothing wrong, and they were the ones trespassing on his property.
Bystanders can be heard laughing merily as Bedekovic drives up and down the stretch of land, plowing away. A police officer even had to help one shopper to move her car after it sunk into the soft soil.
The clip ends with Bedekovic contently driving his tractor through his gate and out of sight of the laughing bystanders and the angry motorists.
With any luck, they learned that day not to upset a farmer and would think twice before parking on his property again.
Please fill in your e-mail so we can share with you our top stories!