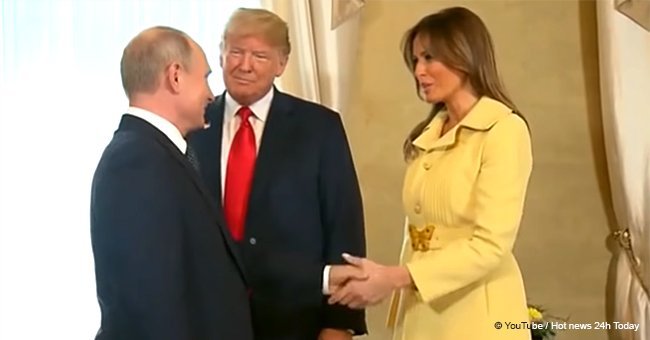 See Melania Trump's horrified reaction after shaking Putin's hand

Melania Trump was photographed looking odd after greeting Russian President Vladimir Putin
Melania Trump, 48, was in Helsinki accompanying her husband, US President Donald Trump, at last week's Helsinki summit on the 16th of July 2018.
The Helsinki summit was the last leg of a one-week European tour, which has seen the Presidential couple visit England and Scotland before heading for Finland.
While Melania had looked delighted at her meeting with Queen Elizabeth I with whom she had tea, her reaction to meeting President Putin appeared to be quite different, judging from the images of their handshake posted on Youtube
"Watch Melania's face and body language after shaking Putin's hand. She is scared to death of him."
@KremlinTrolls,Twitter, 18th of July 2018.
The video of Melania Trump's handshake with Putin has gone viral and viewers were particularly struck by her expression after shaking the Russian President's hand.
Some commented that Melania looked as if "She had stared into the face of evil" and some said they "felt sorry for her."
Read more about Melania Trump on our Twitter account @amomama_usa.
The video starts with Putin and Trump exchanging a handshake, then Melania steps forward and shakes the Russian's hand, smiling graciously.
Within seconds, Melania drops Putin's hand and pulls away and turns to the cameras with a horrified look on her face.
Melania has often hit headlines for her behavior in outings with her husband, and curiously enough, most of the incidents involved hands.
Melania has often been seen avoiding holding the President's hand, and in one instance was filmed swatting away Trump's hand.
This seems to have been the only glitch in Melania's Trump European trip, during which she comported herself with commendable grace and elegance.
Please fill in your e-mail so we can share with you our top stories!