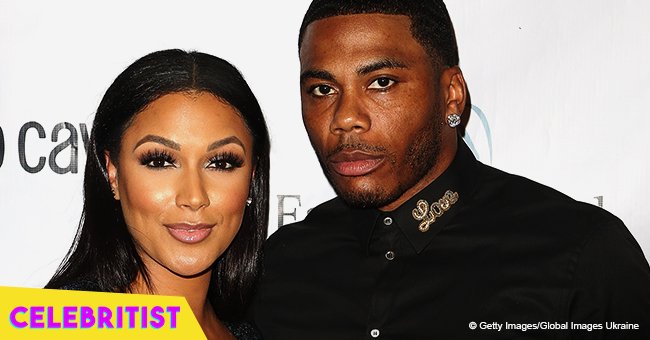 Nelly shows passion to his longtime girlfriend in beige skimpy dress in recent photos
The American rapper, singer, songwriter, entrepreneur, and occasional actor showed his girlfriend some love in recent photos that the couple decided to share with their fans.
Cornell Iral Haynes Jr., known by his stage name of Nelly, has been dating Shantel Jackson for years already, and the couple have weathered some serious storms together, including allegations of sexual abuse against the rapper.
But Jackson has stuck by her boyfriend, even refuting the anonymous accusations when they surfaced in 2017. The couple also faced drama from both their exes at the start of their relationship.
Jackson recently took to her Instagram account with a photo of herself and Nelly, all dressed up, as he playfully bit into her bare thigh.
"He wanted to bite it #vegasnights," she captioned the cute picture.
Jackson was wearing a beige dress with a low cut v-neck, an open back, and a slit all the way up her thigh. She wore her hair in two french braids down the sides of her head, and a pair of dark bronze high heels.
While Nelly sat on the sofa next to her, she lifted her left leg and placed it square on the sofa between Nelly's thighs. He had reached his arm under her thigh to grip it on one side, and was biting down on it playfully on the other.
The couple each had a drink in hand.
Nelly also posted his own photo, with this one showing Jackson stradling his one knee, with ever more of her thigh and backside exposed as the dress fell open behind her. In the image, he seemed to be utterly infatuated with her chest.
"My Rida..!!!!!! @missjacksonLOVE YOU MAMA..!!!!!!" he captioned the sexy post.
His post had almost 85,000 likes in just 2 days.
The couple are not shy with what they share with the public, and have even posted some racy videos of themselves together, including one in which Jackson was given her boyfriend a lapdance in what appeared to be a bathing suit and tights.
She was sitting on Nelly's lap while moving back and forth following the rhythm of the music in the background. The rapper was gently caressing his girlfriend's legs and kissing her back.
Nelly was previously attached to another musician, Ashanti, while Jackson is the ex-girlfriend of professional boxer Floyd Mayweather.
Mayweather and Jackson's relationship disintegrated when she fell pregnant, and decided to terminate the pregnancy, something he decided he could not support.
Please fill in your e-mail so we can share with you our top stories!